Everyone despises cleaning, yet everyone enjoys living in a clean home. You might question if there is an easy and painless way to keep your house deep clean, especially if you work a full-time job, between work, errands, parenthood, and the craziness of daily life.
Even though it can seem overwhelming to manage everything on your to-do list, there are some quick and simple strategies you can use to organize your home (and your life) and ensure that deep cleaning your home becomes a daily or weekly habit.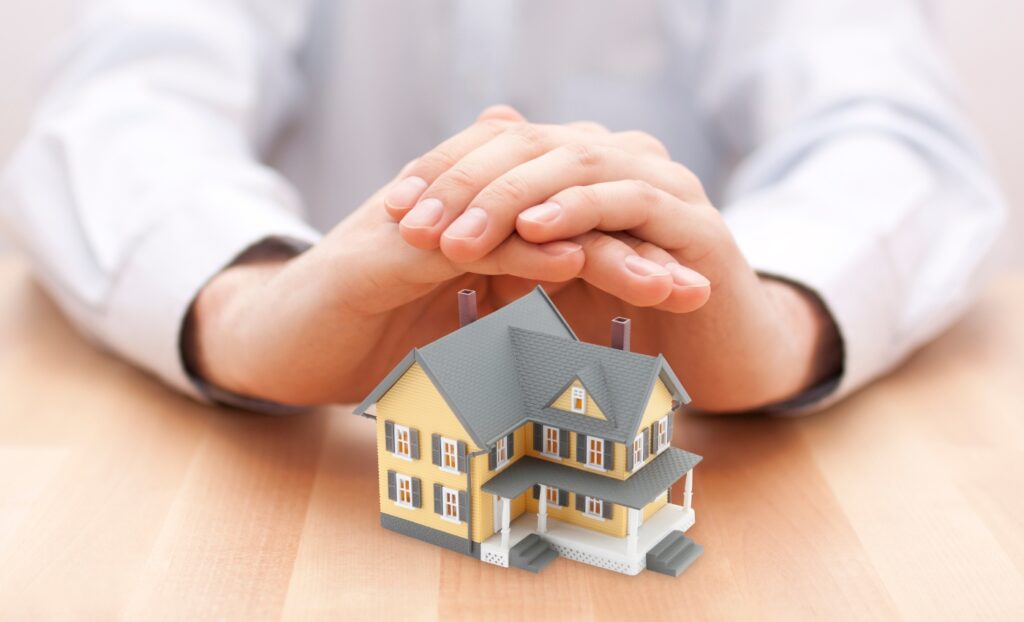 Prior to deep cleaning is declutter
Any obvious clutter that does not belong in the space should be relocated. To make your thorough cleaning checklist easier to manage, save the items hidden behind closed doors for another day. Deep cleaning is made simpler by clearing clutter, and taking in the sight of your clean surfaces might inspire you to keep cleaning.
Consider whether you should put each item away, dump it, or donate it as you pick it up, including periodicals, well-read paperbacks, and worn-out sneakers. Eventually, deep cleaning will go much more quickly after a major declutter because everything will be put away in its proper place.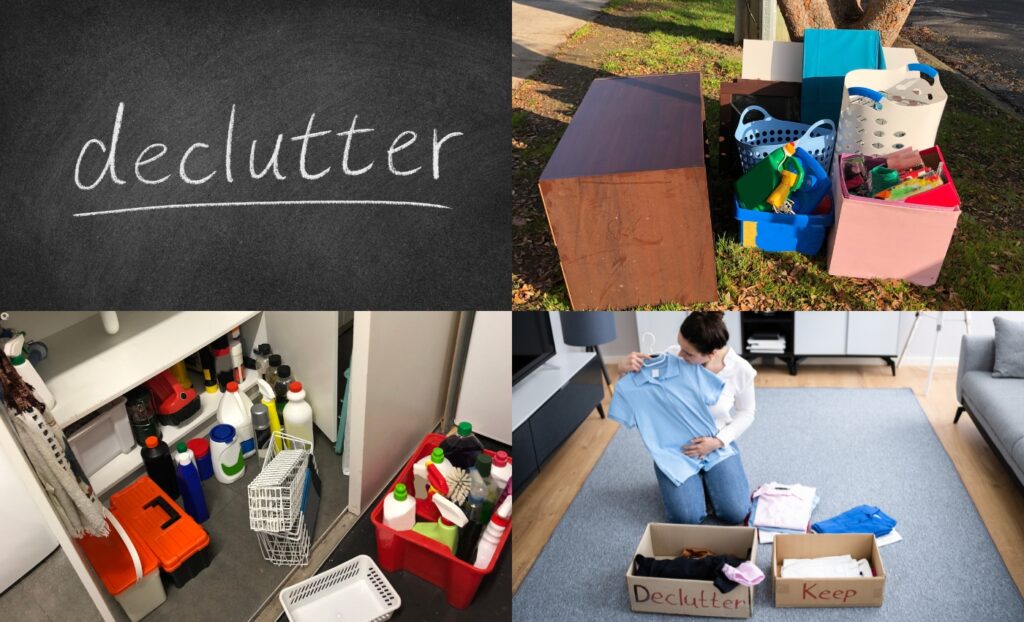 Clean the entire house, not just a single room
Instead of deep cleaning one single room at a time like the kitchen, bathrooms, and then bedrooms, it is far more effective to choose one task (such as dusting, vacuuming, or mopping) and do it in every room of the house. By doing it that way, you won't experience the feeling of being stuck in a never-ending cleaning cycle where you keep starting the same work.
Especially, avoid cleaning the blinds first in a room, then wiping the coffee table, only to have the dust from the blinds cover your freshly cleaned coffee table. To reduce unnecessary work, Sparkling and Beyond advises beginning at the top of the space, such as dusting a ceiling fan, and working your way down to the floor.
Similarly, deep clean from left to right helps you cover the entire room rather than hopping from one spot to another.
Related: How can I keep my home clean and organized on a tight budget?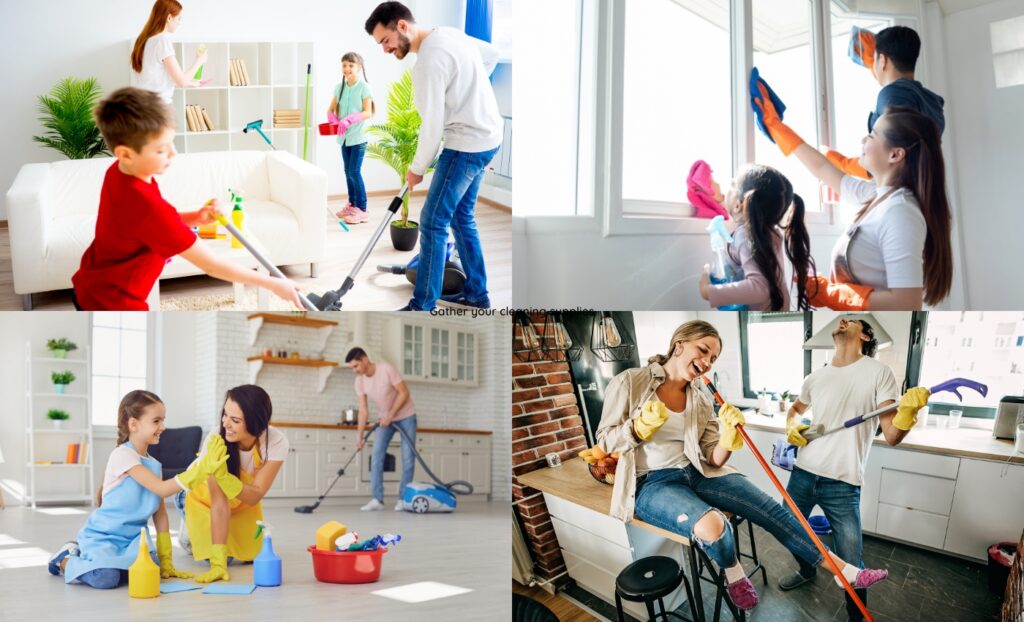 Gather your cleaning supplies all at once
Making a designated station for all of your cleaning tools and equipment is a good place to start when it comes to deep cleaning your house. Having everything you need for cleaning in one portable location, whether it be a caddy, bucket, or tote, makes the task much simpler. As a result, you won't have to spend time looking for tools and you won't have to worry about collecting them before your next round of deep clean routine.
You can also stuff the pockets of an apron or even a carpenter's tool belt while wearing them. With numerous large cleaning bottles, this can be challenging, but you don't need large bottles, instead, pour the cleansers into portable, reusable spray bottles instead.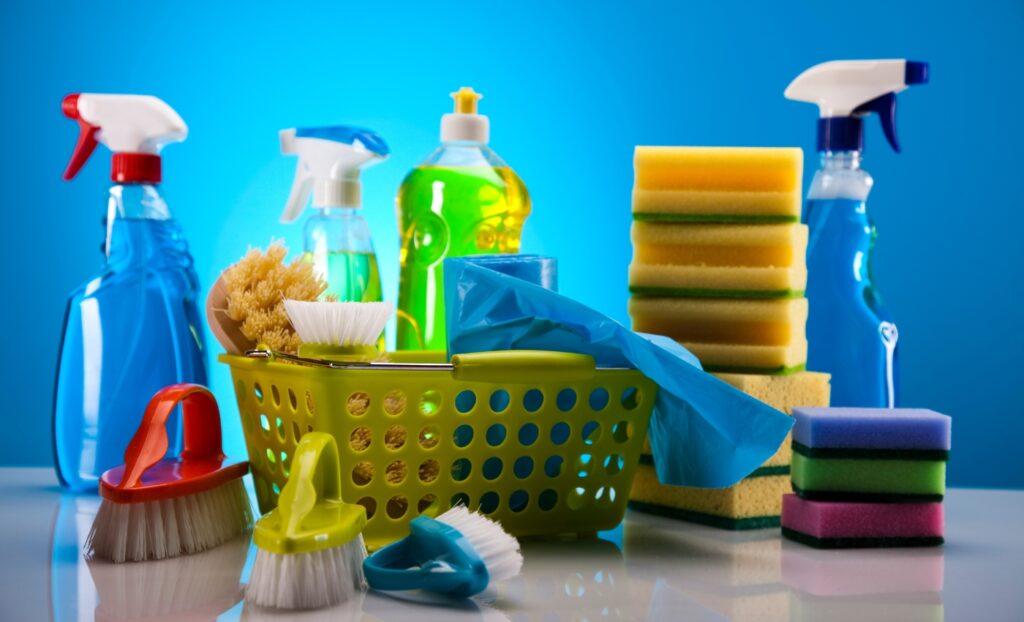 Create your own "Deep Clean Schedule"
Setting up a suitable timetable and deep cleaning routine will help you focus on your house and keep your mind in check. Cleaning the same area again is pointless if you're neglecting other areas of your house. By breaking down your cleaning duties into daily, weekly, and monthly lists, you'll never have to spend hours or days performing a thorough cleaning of your entire home again.
Wash your linens and towels once a week, mop and vacuum your floors, dust your furniture and surfaces, and clean your showers and baths. Take stock of your kitchen's food, cleaning supplies, and toiletries each month to make sure nothing is out-of-date or running low.
While there isn't a single "optimal" time to deep clean your home, you can come up with a cleaning strategy that fits your family's particular schedule the best!
Related: What is in a home cleaning checklist?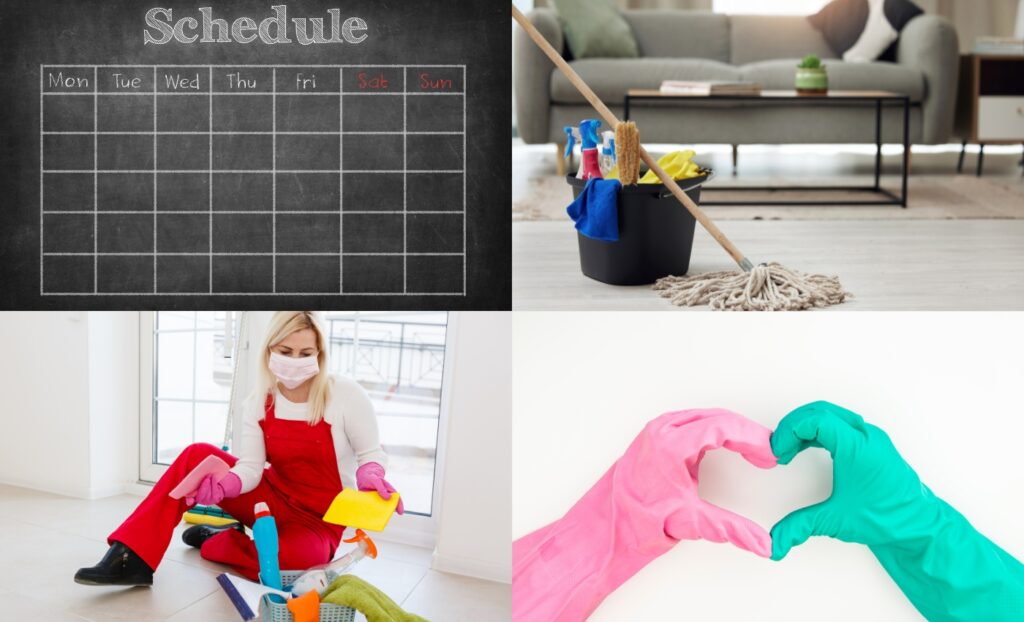 Some helpful deep clean tips for you
1. Remove all the dust from surfaces:
Make sure to switch off ceiling fans before beginning to dust and deep clean your house. Focus your dusting efforts on the tops of furniture and the undersides of shelves, as well as on handrails, picture frames, trinkets, and TV screens.
Using furniture cleaning and polish and a soft cloth, clean any remaining hard surfaces (such as wood furniture, shelves, built-ins, etc.). Tie a microfiber cloth to the end of a mop or broom to reach locations that are difficult to access, such as blinds and higher shelves. Last but not least, give the lampshades a lint roller.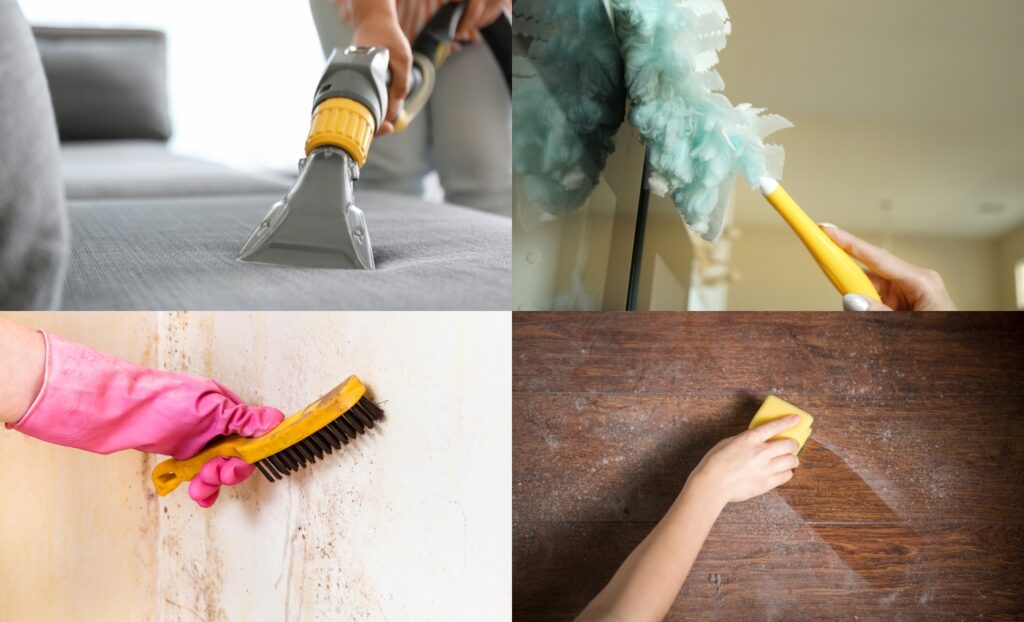 2. Deep clean the window:
The payoff from deep cleaning windows is substantial despite how easy it is. Vacuum the tracks and sills first; then, spray glass cleaner on the window from top to bottom. After giving the cleaner a moment to work, squeegee it off. It will be simpler to see and remove streaks if you wipe in one way on interior windows and another on exterior ones.
We advise using a glass cleaner and a microfiber cloth instead of a squeegee. Use horizontal strokes and go from top to bottom when wiping with the cloth. Avoid wiping a window with newspaper or paper towels because they leave a residue and should not be used to wipe windows since they can leave streaks.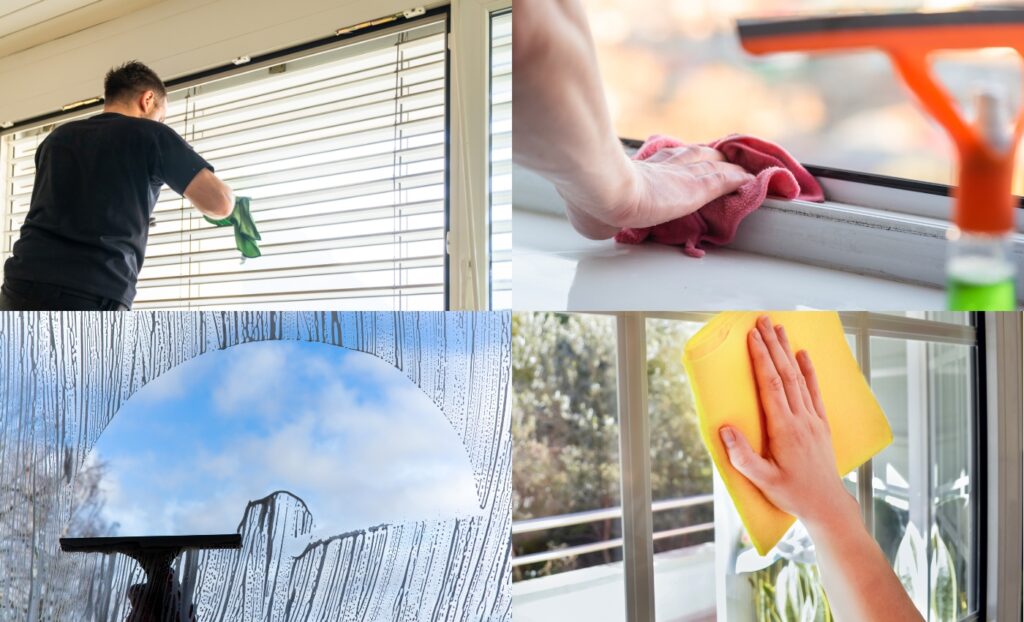 3. Deep clean the floor:
You'll need to relocate the furniture, particularly bigger pieces like beds and sofas, if necessary to achieve deep cleaning properly. Placing furniture sliders under the legs of large items will make it easier to move them when they are heavy. Then use the crevice tool on your vacuum to remove the debris from baseboards and corners.
Use a microfiber mop and the proper cleaner for the surface to clean a hard floor. Beginning at the farthest corner of the room, begin mopping and work your way backwards to the door. Every time you finish a 4-by-4-foot space, rinse the mop.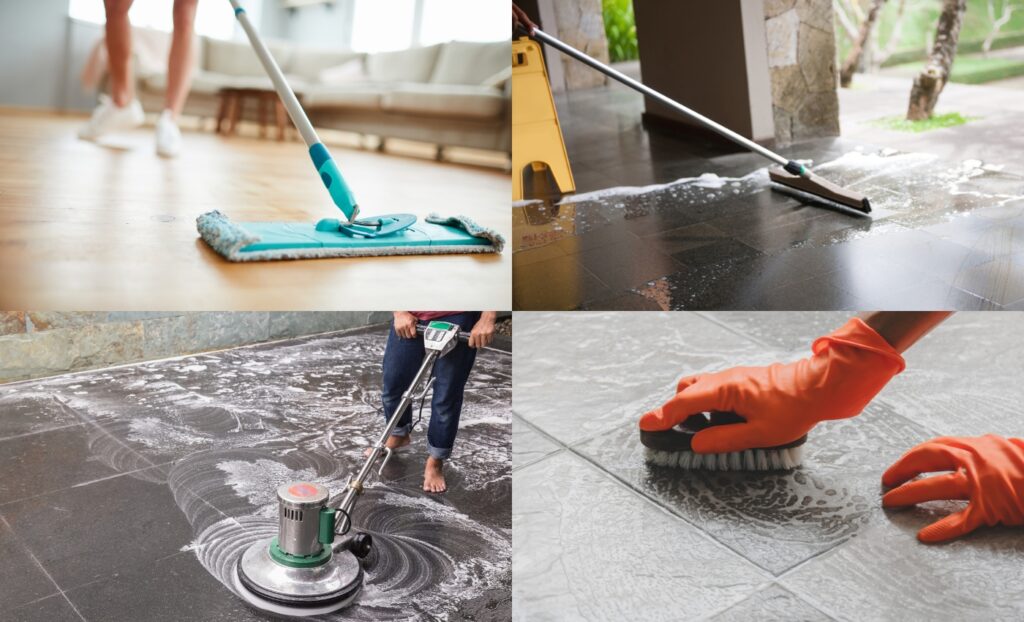 4. Deep clean the bedroom:
Launder Bedding: Wash all of the bedding, including the down comforters, shams, pillows, and the bed skirt. To speed up drying, give them an additional spin cycle. To minimize clumping, dry down pillows on low with clean tennis balls. Outside air drying is the best method for air-drying synthetic cushions.
Freshen Mattress: Deep clean your mattress while your bed is disassembled. After covering the mattress with baking soda, vacuum it up with the hose attachment after letting it sit for an hour.
Organize your closet: Take out your unworn clothing from the previous season and place it in a bag for donation or consignment. then get matching hangers for your clothing.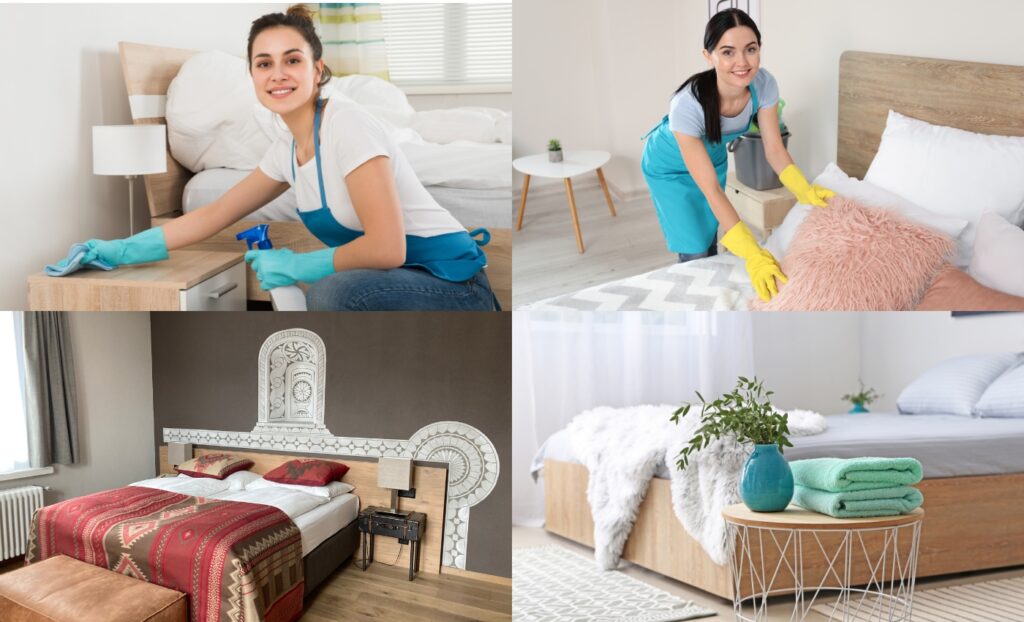 5. Deep clean the kitchen:
Polish cabinets: First wiping the exposed tops, then cutting shelf liners or newspaper to fit inside. Then, use a wood cleaner to deep clean the cabinet doors on the front and rear.
Clean deeply around and within appliances: Wait until the refrigerator is almost empty before cleaning both the inside and outside. For the stove and dishwasher, repeat the process.
Clean and organized countertops: Take everything off the counters and give them a thorough cleaning, including the backsplash. Return only what you use every day after the surfaces have dried.
Pull everything from the pantry shelves and give them a good cleaning. As you clean, think about using a sizable roasting pan to catch crumbs.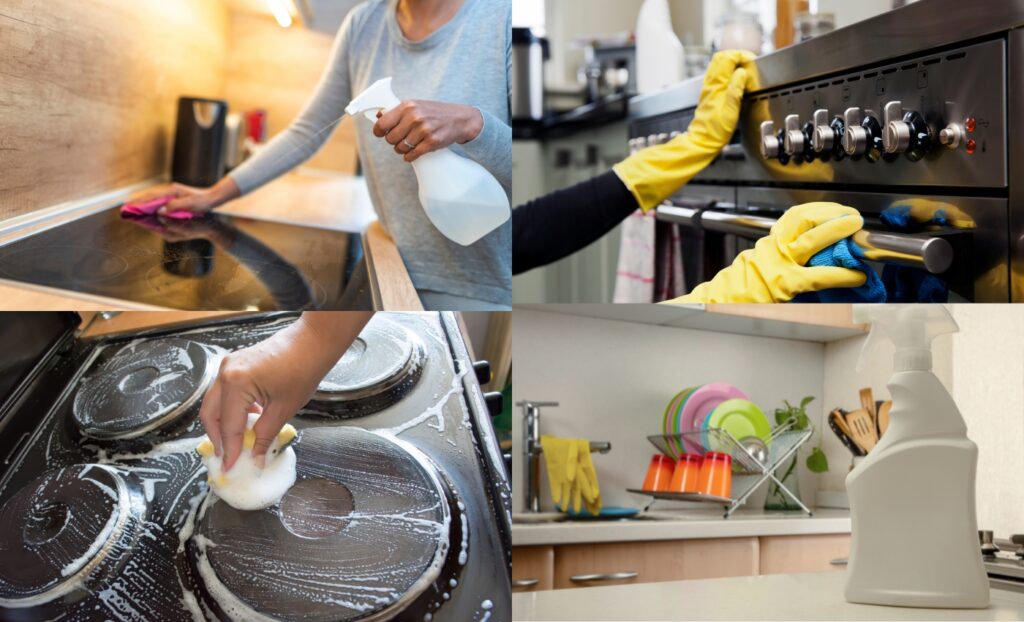 6. Deep clean the bathroom:
Shower curtain: Before washing, check the label, but for the most part, use the delicate cycle on cold water. Curtain should be taken down and rehung before the dryer is turned to the lowest setting.
Sparkling shower doors: Heat distilled white vinegar and wipe it over the doors to get rid of water stains and soap scum. Reapply as needed to keep the doors moist for 30 minutes. After that, scrub with a non-scratch pad and baking soda. Use glycerin soap and a squeegee to keep the shower clean deeper for longer.
Vanities and cabinet decluttering: Put some order in the disarray under the sink. Take everything out, throw away the unnecessary items, clean up the necessary items, and then reload it by category. Do the same for your medicine cabinet and any other cabinetry.
Related: How to clean bathroom try these hacks to make the chore easy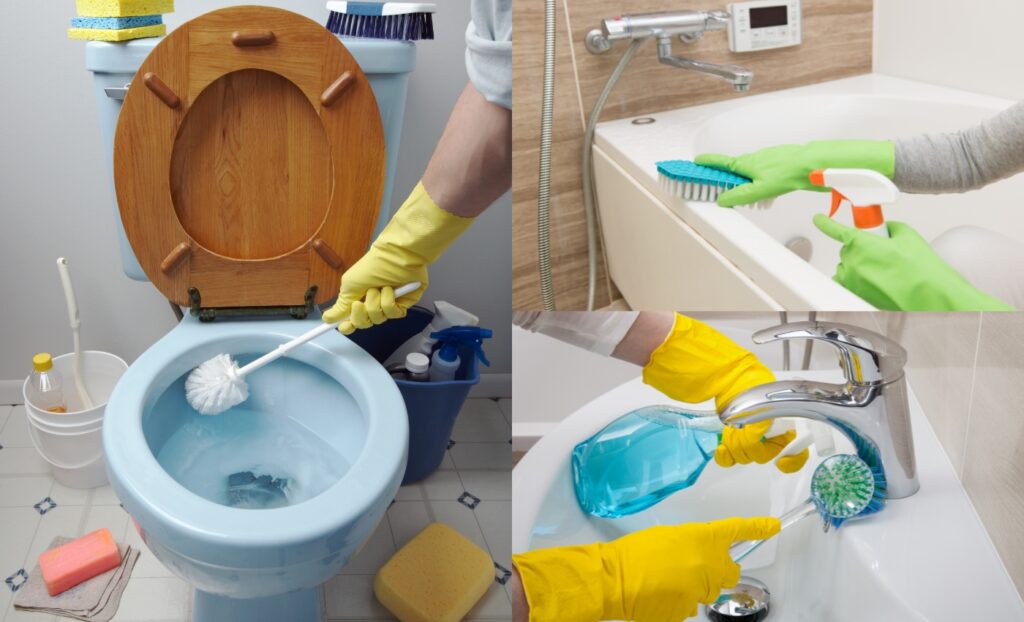 7. Deep clean the living room and other family rooms:
Refresh furniture: Take off the cushions and use the brush attachment to vacuum all upholstered surfaces, including the backs.
Dust frames: Remove all framed artwork and photographs, then use a moist microfiber cloth to dust the front and back of each one. Avoid immediately spraying anything against the glass. It can harm the photograph and mat if it seeps into the frame's corners.
Beneath electronics dust: To deep clean your devices, you don't have to unplug and move everything. Just run a very thin dusting wand under the components.
Launder all of the throw pillows and their covers as an added deep cleaning task. Examine the CDs, DVDs, video games, and other items stowed away behind closed doors as well.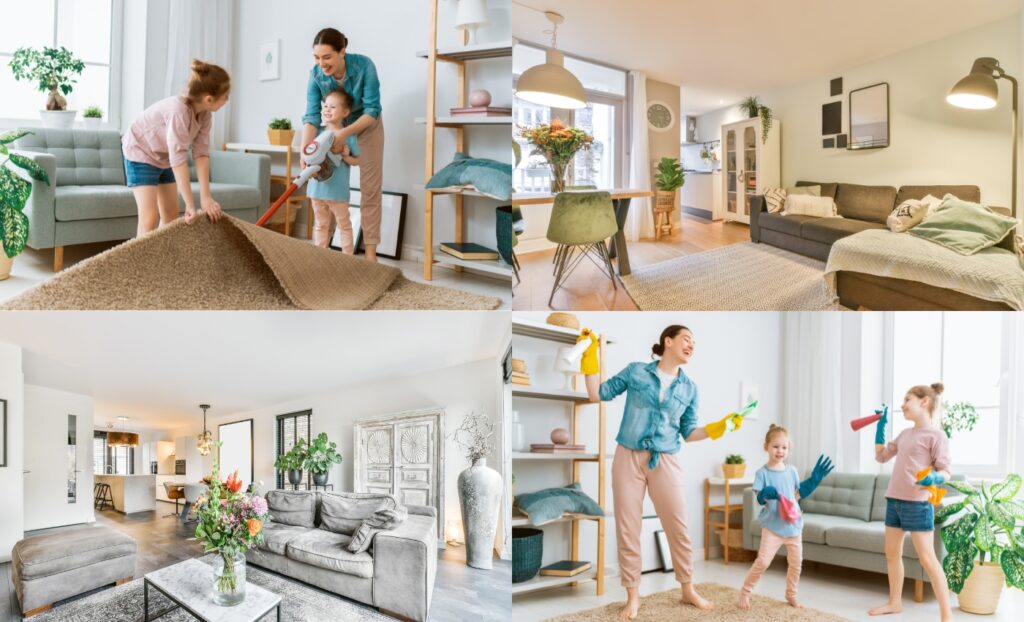 Have faith in the power of deep clean
Nobody enjoys knowing their home is a mess as they prepare to go to bed. Spending 10-15 minutes every night on a deep cleanup will help you keep your home free of clutter and allow you to sleep better knowing you'll wake up to a clean environment.
The more people involved the better, especially your family! Set a timer, enjoy yourself, and concentrate on your top cleaning objectives. Your kitchen, children's bedrooms, or the entrance should be your first areas of concentration. Next, work on the locations with the greatest traffic.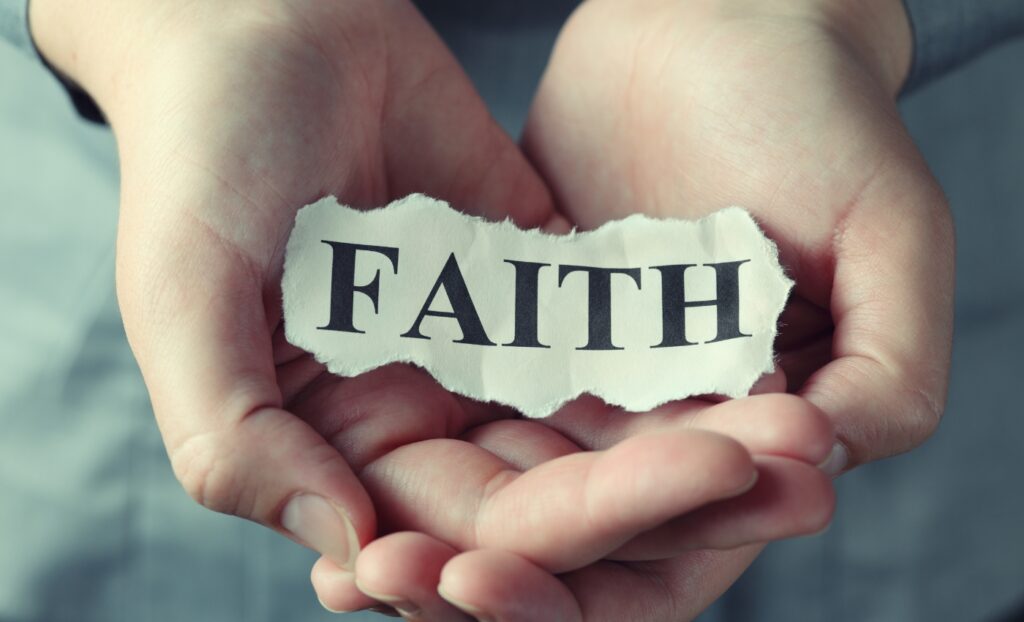 Consider yourself as an expert at maintaining a tidy home
One of life's many mysteries, especially for families and people who work full-time, may be figuring out how to maintain a house tidy. But if you put in a little time and effort, you can easily develop good housekeeping practices that will help you keep your nest spotless all year long.
Need some tips? We're here to help
No matter what your cleaning problems are, you can count on sparklingandbeyond.com to make your life easier! We provide you with affordable and reliable cleaning services and a lot of helpful tips.
In case you want to book our services, feel free to contact us today! Our experienced cleaning experts are waiting for you!
If you want to check our availability and pricing, please check here