Do you intend to relocate in the near future? Moving is already stressful and complicated if you handle it alone. A move out cleaning service is definitely a good choice to help you. Hiring a move out cleaning service can make your move much easier. The specific tasks included in a move out cleaning service may vary depending on the cleaning company or the needs of the client, but generally, it includes the following:
1. Dusting and vacuuming all rooms
A move-out cleaning service typically follows a comprehensive cleaning checklist that ensures that all the rooms in the house are cleaned thoroughly. The specific tasks involved in cleaning each room may vary depending on the service provider and the size and layout of the property. Here are some common tasks that a move-out cleaning service provides:
Dusting:
The cleaning service will remove any loose dust and debris from surfaces such as shelves, countertops, and baseboards. They may use a microfiber cloth or duster to wipe down these surfaces, paying particular attention to areas often overlooked, such as ceiling fans and light fixtures.
Vacuuming:
Once the dusting is complete, the cleaning service will typically vacuum the floors and carpets. They may use a high-powered vacuum cleaner to remove all dirt and debris from the feet and carpets.
Note: If any upholstered items are in the home, such as sofas or chairs, the cleaning service may also vacuum or use a steam cleaner to remove any dirt or stains. With years of experience in cleaning floors and carpets, kindly share with you our list of expert tips sharing about how to clean different types of carpets and floors.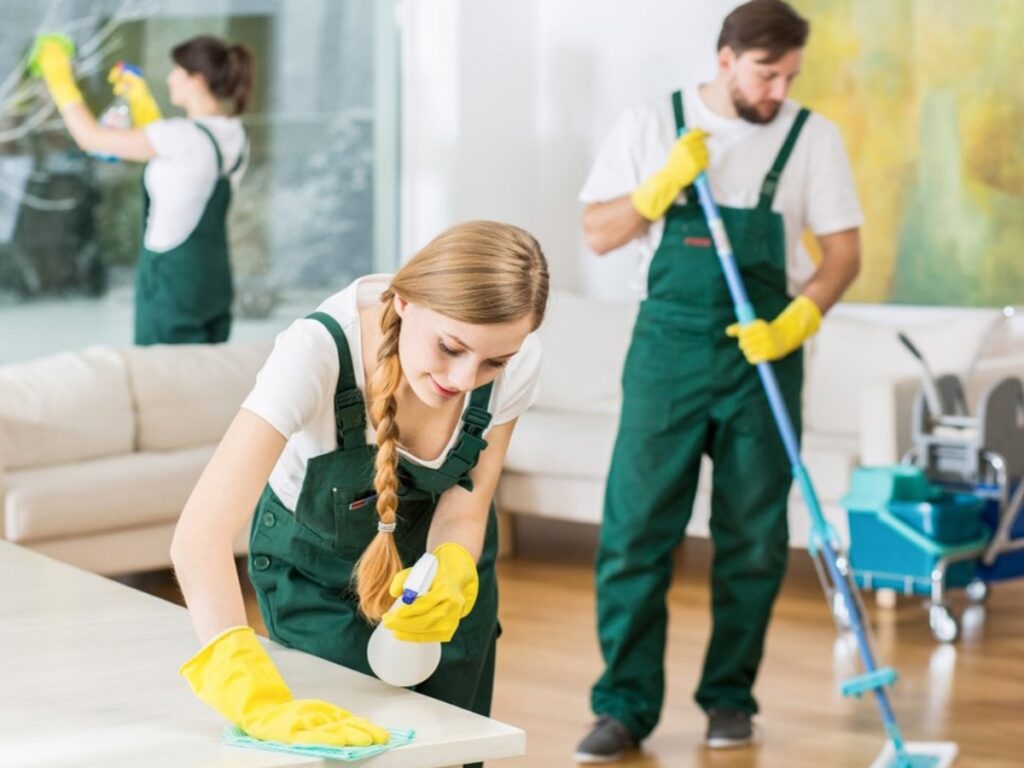 2. Appliances and equipment cleaning
The cleaning service will clean all the appliances in each room:
Kitchen: oven, refrigerator, microwave, dishwasher, and stove, along with countertops, cabinets, sink, and backsplash, etc.
Bathroom: toilets, tubs, showers, sinks, and countertops (clean and disinfect), mirrors, polish any fixtures.
Bedroom: furniture, lamps, and picture frames; change the linens (if requested).
Living room: Tables, chairs, sofa.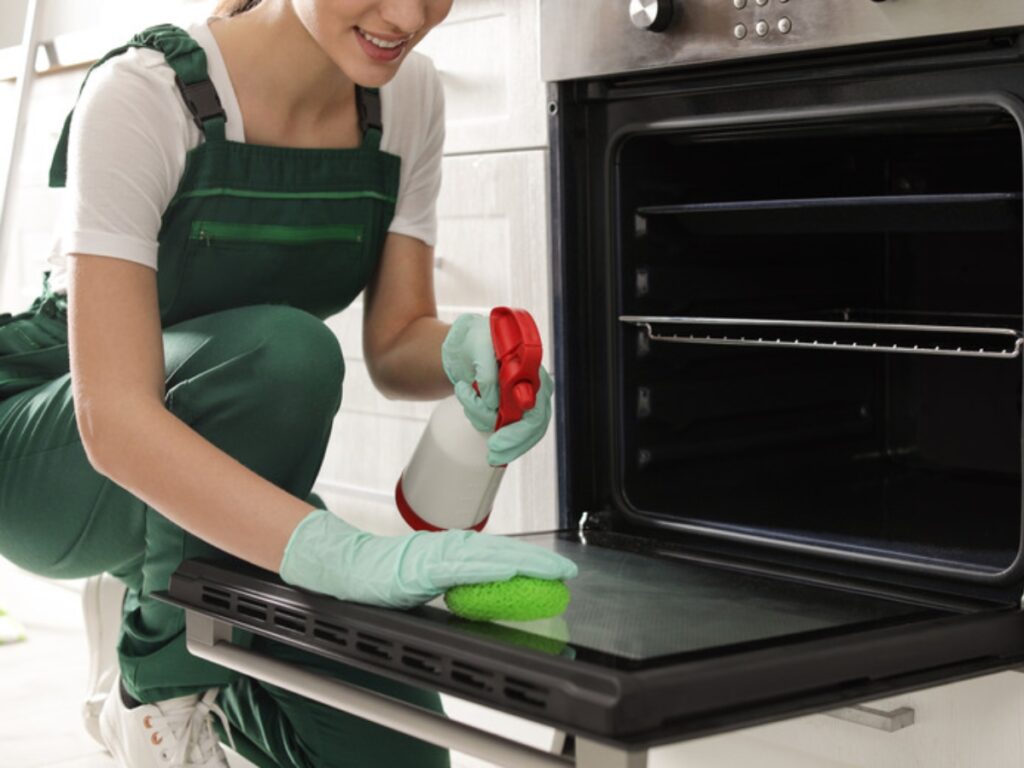 3. Removing trash and debris
To minimize the luggage that you bring to your new accommodation, it is necessary that you organize your stuff and give away anything that you don't need to bring along. A professional cleaning service agent can help you in emptying all trash cans and removing any debris or clutter left behind. This ensures no additional fees for cleaning when you leave.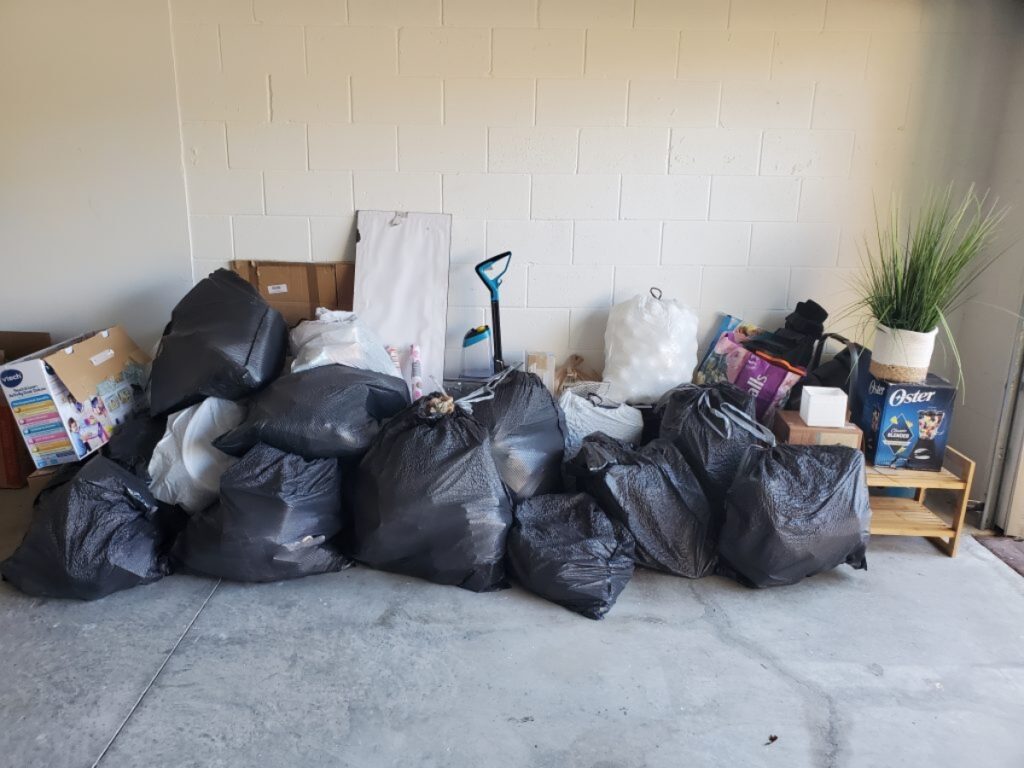 4. Cleaning windows and blinds
Windows and blinds are often ignored since people rarely care about them. But it is better to leave it clean when moving out. If you hire a professional moving-out cleaning company, they will have equipment and tools that make washing windows, cleaning blinds, and wiping down sills and frames more quickly.
5. Deep cleaning (optional)
Deep cleaning often includes cleaning tasks to deal with deep-seated dirt and grime and hard-to-touch areas in your house (for more detail about deep cleaning, read our standard cleaning vs deep cleaning article to have more insights).
You can schedule a deep cleaning before moving out if you have any stubborn stains on your floor or carpet. Cleaning service companies have sufficient equipment and experience to resolve that dirt. You can consider several everyday deep cleaning tasks such as removing stains, cleaning grout, and removing pet hair that meet your needs.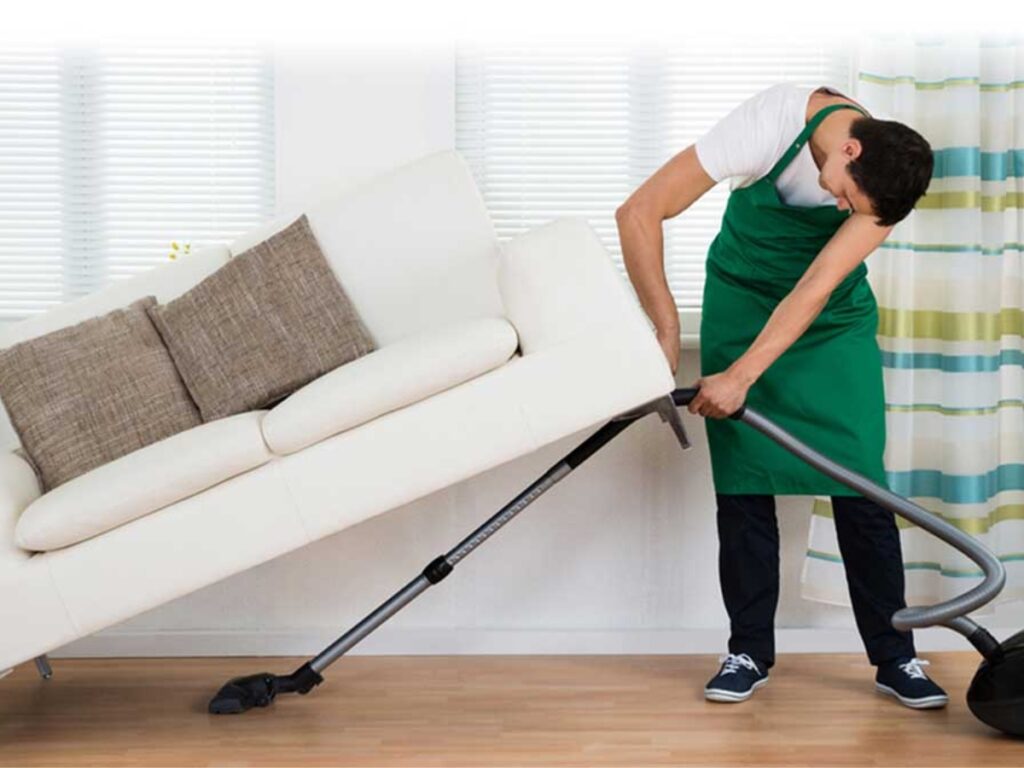 Moving-out Q&A
How much does a move out cleaning cost?
The cost of a move-out cleaning will vary depending on several factors. The property's square footage and location are the two most important factors that will influence pricing, so get a quote from a local cleaning service in your area.
A basic cleaning service for move-out will cost you around $200 to $300 on average, similar to maid services. On an hourly basis, you should budget $75 – $150 per hour for at least two cleaners to complete the work.
Remember that some move-out cleaning services may charge additional fees for certain tasks, such as cleaning inside the refrigerator or oven. So, it is essential to confirm with the cleaning company what is included in their standard move-out cleaning service.
How clean should my room be when I move out?
Usually, there will be some provisions in the rental agreement which introduce you to how clean it should be when you move out. Otherwise, you should negotiate with your house owner for a reasonable cleaning agreement.
With professional cleaning service, you can expect some incredible results on how clean your house can be. Take a look at our incredible photos of carpet before and after cleaning.
What should I prepare to work with a professional cleaning company?
As you are the one who is responsible for the house, you must take a look at what you need to clean before making a schedule with a cleaning agent. You can write down some demands or cleaning checklists in advance to ensure nothing is ignored. Also, move-out cleaning experts can review on your checklist and recommend some more detail to get the best result. Doing all of this will help your work run smoothly and take a shorter time.
If you have no idea how to create a cleaning checklist for your house, get inspired from our comprehensive checklist for deep cleaning house 2023.
Schedule Your Move Out Cleaning Today
When you move, you have a lot on your plate. Schedule immediately with Sparkling and Beyond professional teams to clean your property can save you hours or even days.
Not only provide reliable and affordable move in/move out cleaning service with customizable service packs, we also share many tested-and-true cleaning tips for your house and offices. With our eco-friendly cleaning supplies, the right products to clean any surface and fully trained and insured experts, you can be confident that your space is clean and safe.
Moving out cleanings, new home cleanings, a la carte services, routine cleanings, and so on, Sparkling and Beyond approaches each job with enthusiasm and experience to ensure that each customer is satisfied.