Office cleaning demands are different between companies leading to the division of office cleaning services into commercial office cleaning and janitorial services.
However, if you don't specifically study cleaning services, you may be confused if commercial office cleaning or janitorial services are the most suitable service for your cleaning plan.
Let Sparkling and Beyond assist you in differentiating those two types of cleaning services, then you can decide which one is for you.
What's the Difference Between Commercial Office Cleaning and Janitorial Services?
1. Differences in cleaning tasks

Commercial Office Cleaning

Focus on deep cleaning tasks using special cleaners if needed:

Deeply cleaning or washing carpets.

Sanitizing hard surface floor (For example, tile and grout cleaning).

Cleaning furniture and upholstery.

Washing window.

Washing powder.

Janitorial Service

Focus on daily cleaning tasks:

Disinfecting toilets.

Cleaning breakrooms and kitchens.

Sweeping and mopping of hard surface floor.

Vacuuming the carpet.

Dusting.

Emptying trash and replacing all the garbage bags.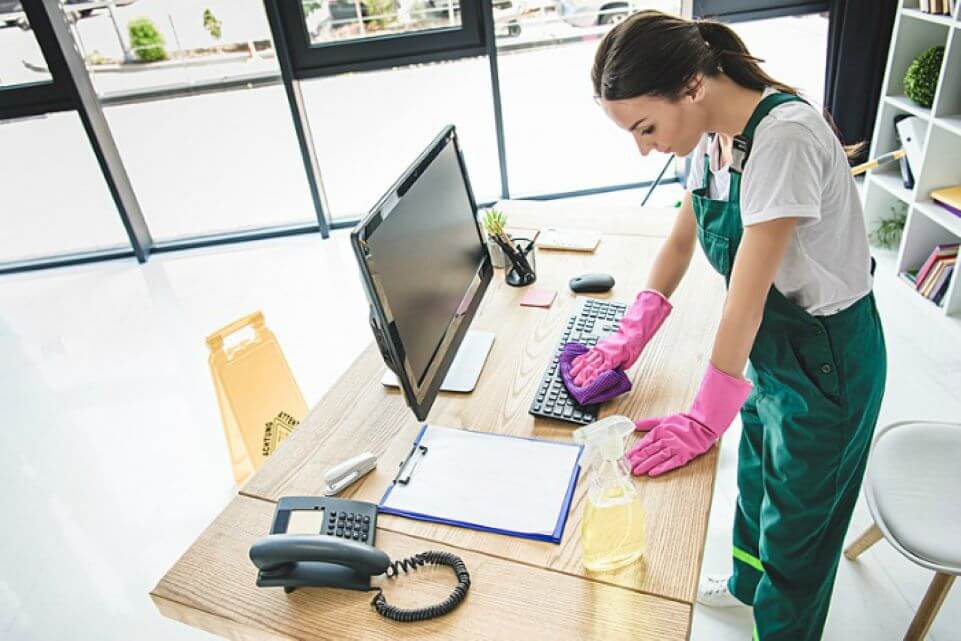 2. Differences in cleaning regularity

Commercial Office Cleaning

Since your office won't need deep cleaning daily, commercial office cleaning agencies often offer a one-time cleaning contract. If you satisfy with their services, you can deal with them to have more than one appointment per year as well as lower the cost in long term.

Janitorial Service

A janitor will be responsible for maintaining the cleanliness of your workspace so you can schedule the janitorial service to be done daily, weekly or monthly depending on your needs.
3. Differences in service standards

Commercial Office Cleaning

Commercial Office Cleaning services providers may deal with different types of office buildings and premises that require different cleansers and equipment. As a result, they vary in cleaning methods and standards that are advised by cleaning experts, some agencies are only experienced in cleaning some special types of office spaces.

Janitorial Service

In general, most of the janitorial cleaning services tasks are familiar with household chores so the cleaning standard is decided by your satisfaction.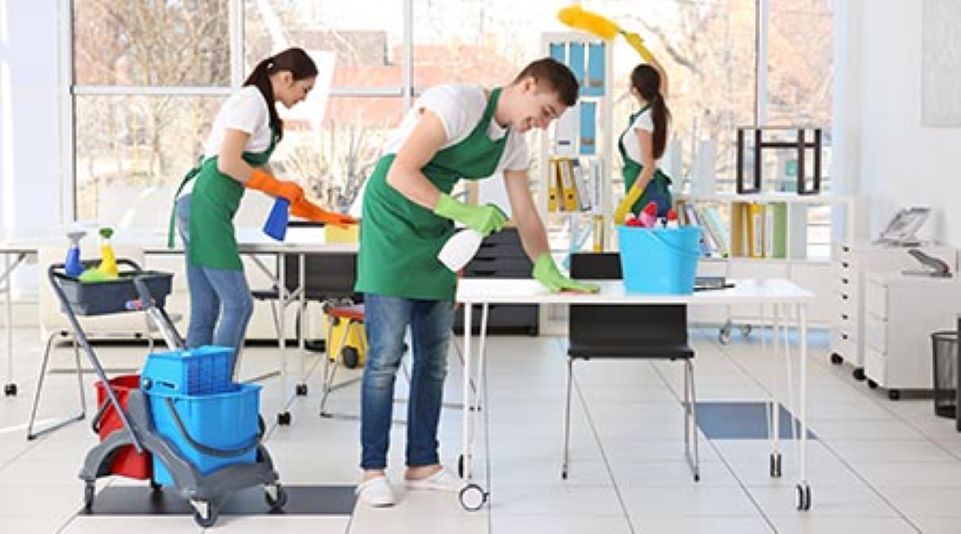 Which one is your best choice?
If you do not hire for the proper services, you risk wasting money or being dissatisfied with the services you receive. There are a few things you should consider before hiring a cleaning service:
Your organization's needs

: It is critical that you examine clearly what is your expectation while contracting with an outsource

office cleaning company

. Moreover, For example, if you need to maintain your

office clean and organized

, hire a janitor. Otherwise, if you need entirely clean your office to renew it, find a reputable commercial office cleaning provider.

The service range of the provider:

Most

cleaning service providers

provide both sorts of

cleaning services

style="font-weight: 400;">, and most organizations may benefit from having both types of cleaning services performed on a regular basis. When looking for a business cleaning service provider, seek one who can provide both sorts of cleaning services so you don't have to deal with several providers.

Your cleaning schedules: You should have daily, weekly, monthly, and yearly cleaning checklists. Deep cleaning should be included in the yearly cleaning checklist and given to commercial office cleaning services

. The rest checklists are for

janitorial services

and you can create your own checklist depending on your needs.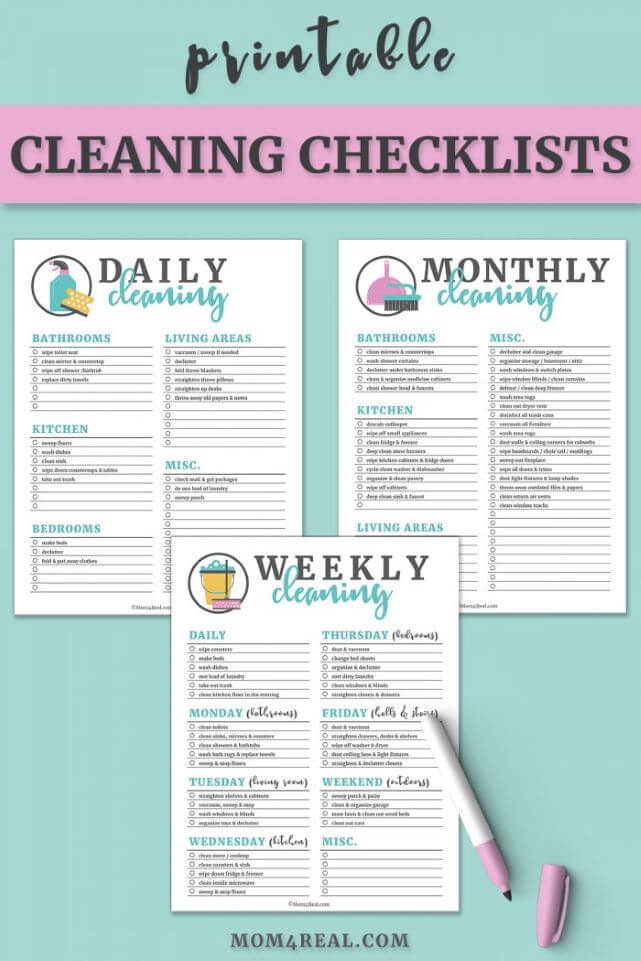 Cleaning experiences of the provider: Janitorial services can handle a variety of cleaning duties in specific office settings such as banking institutions, medical facilities, manufacturing offices, and so on. A medical facility may need a different approach compared to casual office space so if your office requires any special care, find an agency that has experience in the same working spaces.
Commercial cleaning services rates: Find the company's rate and its customer comments to check if the company is reliable or not. Doing this will help you to examine the market performance and reputation of the company. Besides, you may ask about the satisfaction guarantee or cleaning degrees the provider has to check their service quality.
FAQ
Professional guides
Janitorial services should be required if you want frequent cleaning services to maintain your office or facility appearing clean and appealing.
Meanwhile, if you are planning to do a large-scale cleaning project, such as upholstery cleaning or power washing, it is better to contact a commercial cleaning company.
If you have completed your cleaning plan already following our recommendations, why don't you schedule a demo with our Best Office Cleaning services now?
Our well-trained cleaning crew is always willing to assist you with your request.