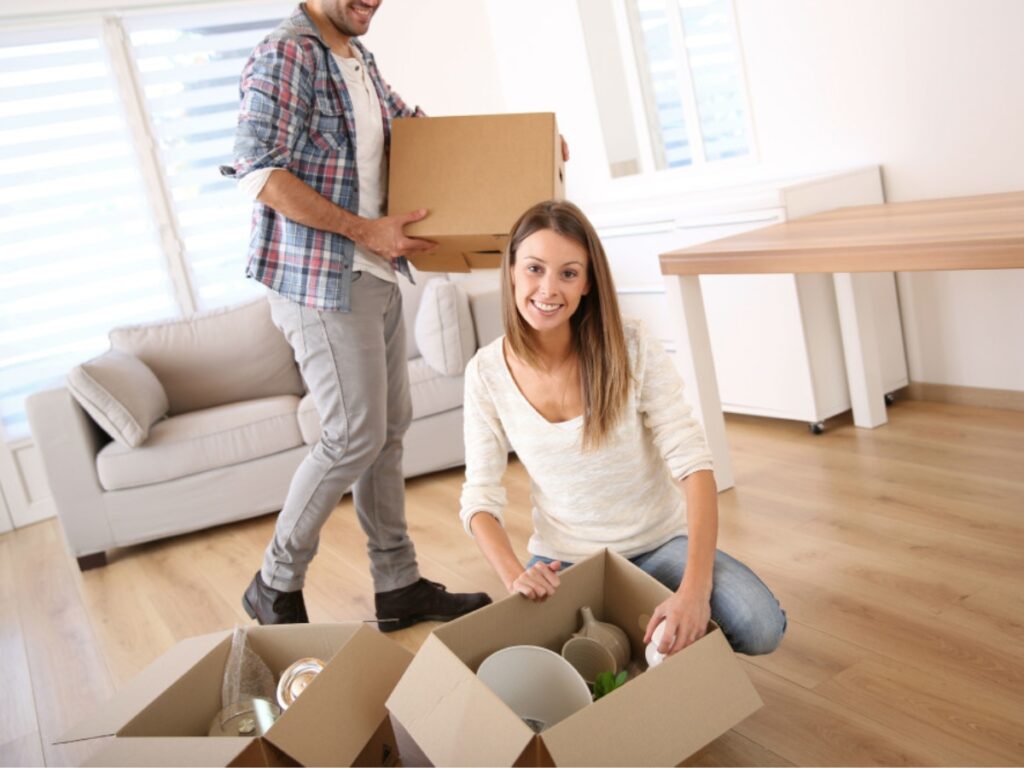 Cleaning your house before moving out is important to ensure that you leave the property in good condition and avoid any disputes with your landlord or new tenants. Here are some tips on how to clean your house before moving out:
Step 1. Start with decluttering:
Decluttering before moving out of a house can help make the process of packing and moving much easier and less stressful. Before your declutter, make a list of the rooms and areas you want to tackle first and prioritize items that are no longer needed or used to make sure nothing is overlooked.
Then, you should sort all items into three categories – keep, donate or sell, and discard. This will help you stay organized and make the decision-making process easier.
We advise you to start decluttering with the easier areas of your home, such as storage spaces or areas with items that are rarely used. This will give you momentum and motivation to tackle the more difficult areas.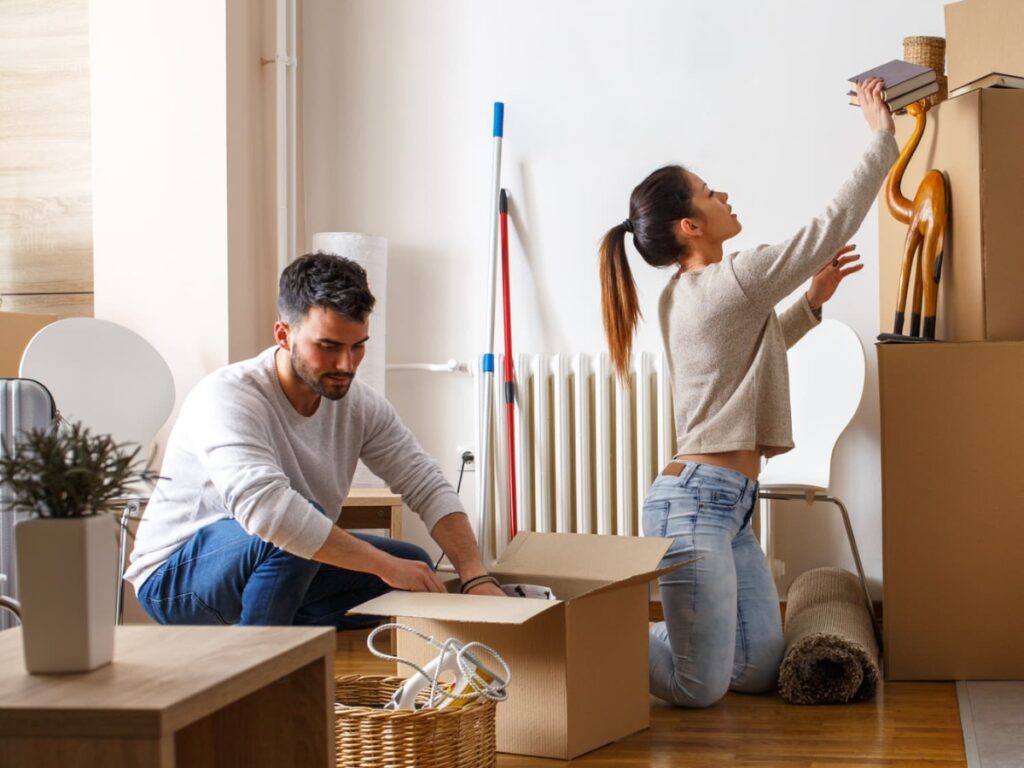 Check everything again to make sure what you need and use. Donating items that are broken, outdated, or no longer serve a purpose is an excellent choice to avoid wasting them.
Items that are broken or no longer usable should be disposed of responsibly. This can include recycling or disposing of electronics or hazardous materials properly. If you feel overwhelmed, ask for help from friends or family members. Having someone to support you can make decluttering easier and more enjoyable.
Step 2. Clean room by room:
Moving out of a house can be stressful, but ensuring the space is clean and tidy before leaving is crucial. Check our Deep Cleaning House Checklist for a house to complete the checklist.
Remember to take care of any special cleaning needs in each room, like carpet or spot cleaning walls. And don't forget to take out any trash or recycling before you leave. With a little effort and attention to detail, you can leave your house sparkling clean for the next occupants.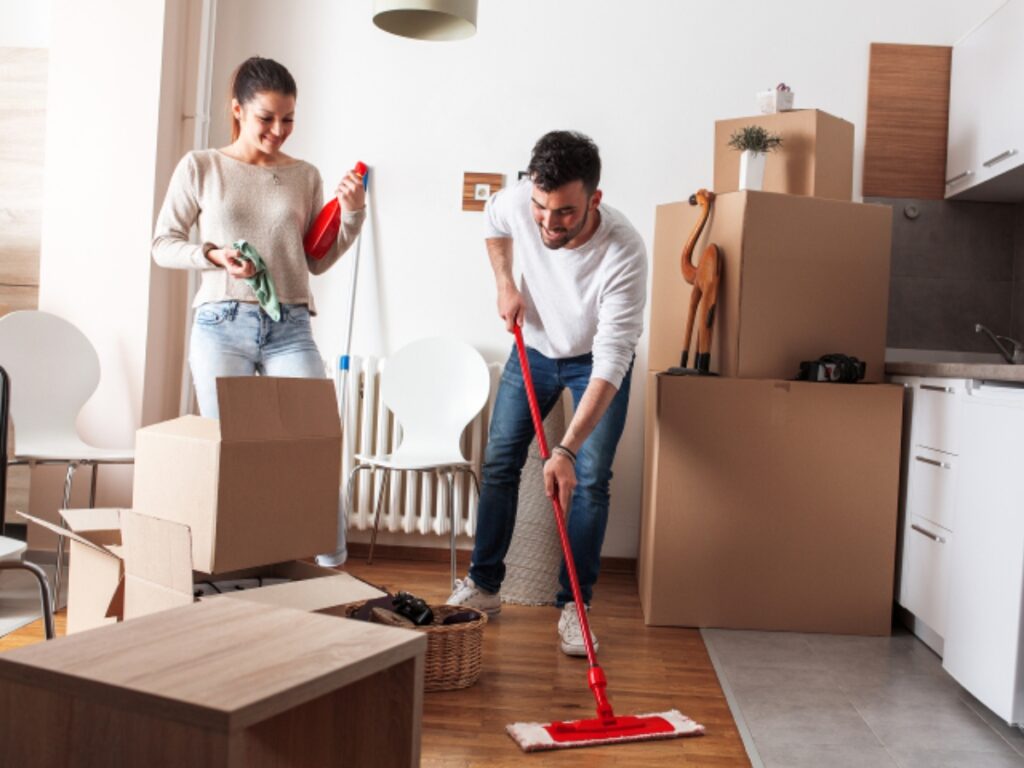 Step 3. Dust and vacuum:
Dusting a vacuuming should be done in order from the highest surfaces to the lowest ones. Doing this will ensure no dust is left behind. 
You should start with high surfaces such as ceiling fans, light fixtures, and high shelves or decorations. Use a duster or a microfiber cloth to pick up the dust, and reach all corners and crevices.
Use a damp cloth, and dust all furniture surfaces, including tables, chairs, and bookshelves. Use a handheld or attachment to vacuum upholstery, like sofas and chairs. If necessary, spot and clean any stains or spills.
The floor is the last one to clean, begin by vacuuming the floors thoroughly, using an attachment to reach corners and edges. Then, use a dust mop or a damp cloth to clean hardwood floors and a vacuum or carpet cleaner for carpets.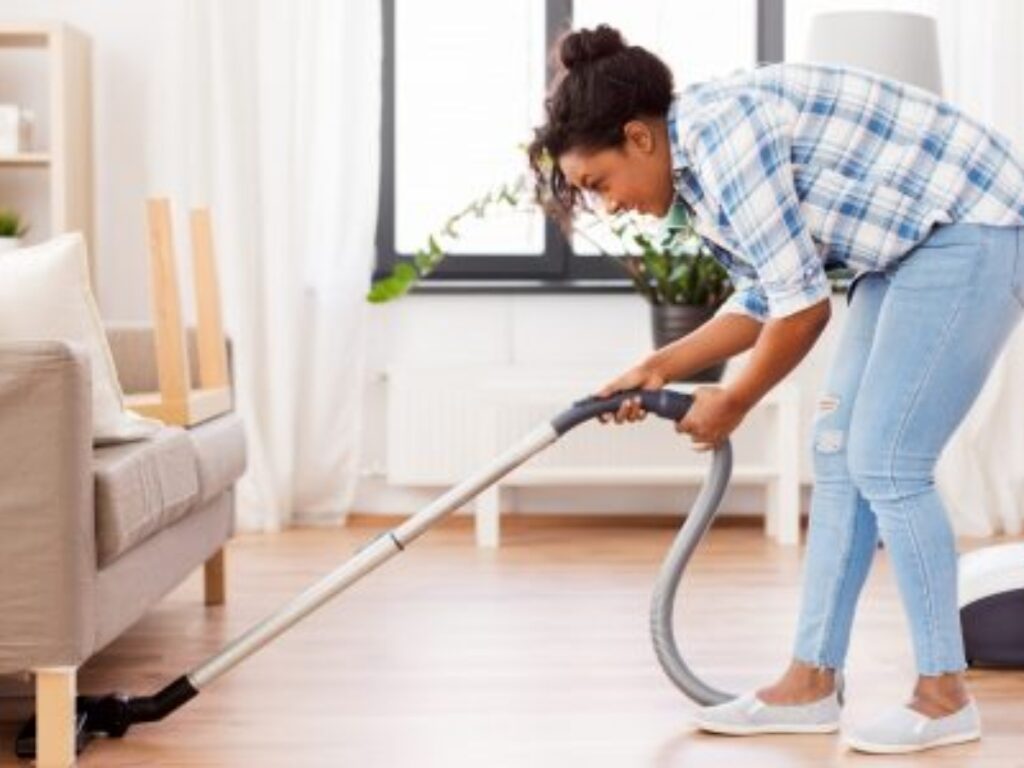 Step 4. Clean appliances:
Cleaning your appliances before moving out is crucial to ensure that they are in good condition and ready for the next occupants. It also helps you get your security deposit back if you're renting. So take your time, be thorough, and leave your appliances spotless before you move out.
We have some helpful tips for you to clean: Fridge, Oven Countertop (How to clean electric countertop or granite countertop), Dishwasher, Washing Machine (or see what are the best ways to clean a washing machine).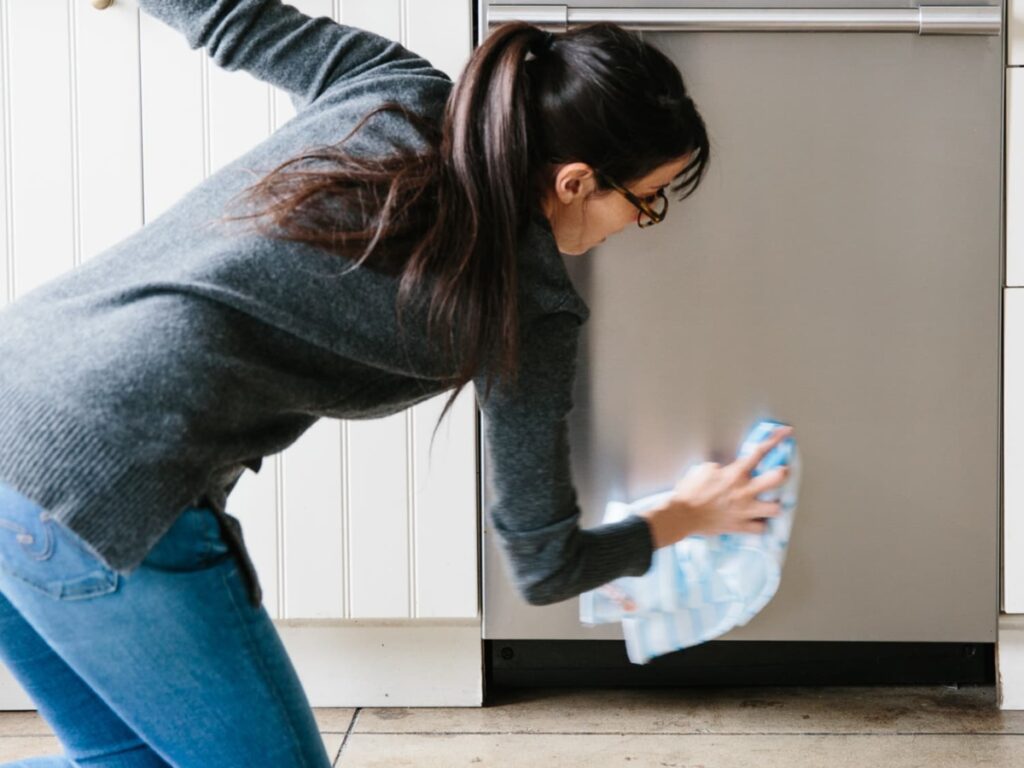 Step 5. Clean bathrooms:
When moving out of a house, it's essential to leave the bathroom clean and tidy for the next occupants. See more details on our helpful tips on how to clean the bathroom, toilet bowl, bathtub walls, showerhead before moving out.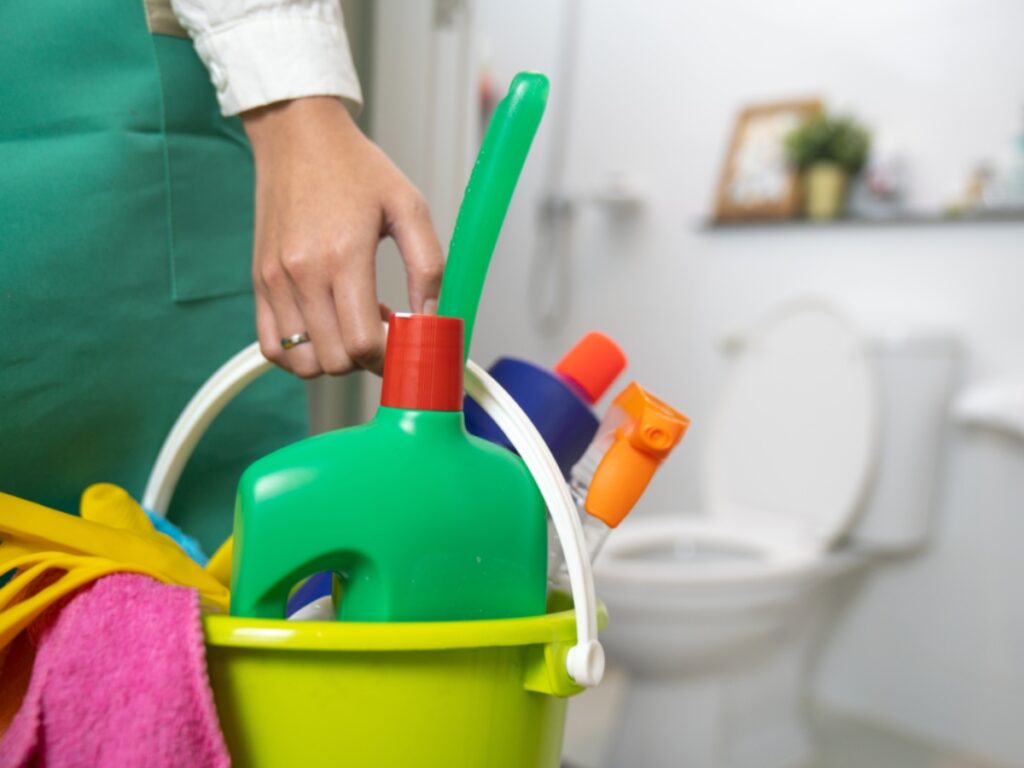 Step 6. Clean windows and blinds:
Windows
Start by removing dust or debris from the window frames and sills using a vacuum or a soft brush. Use a window cleaner and a squeegee to clean the windows thoroughly. Start at the top and work your way down, overlapping each stroke to prevent streaks. Wipe the edges of the windows with a dry cloth to remove any excess water.
Blinds
Dusting the blinds using a soft cloth or a duster first. You can also use a vacuum with a brush attachment to remove dust or debris. Then, add a mild detergent or dish soap to a bucket with warm water. Dip a soft cloth or sponge into the soapy water and wring out any excess water.
Starting from the top, wipe each slat of the blinds thoroughly, removing any dirt or grime.
Once you've cleaned all the slats, rinse the cloth or sponge and repeat the process until all the blinds are clean. Dry the blinds with a clean cloth or allow them to air dry.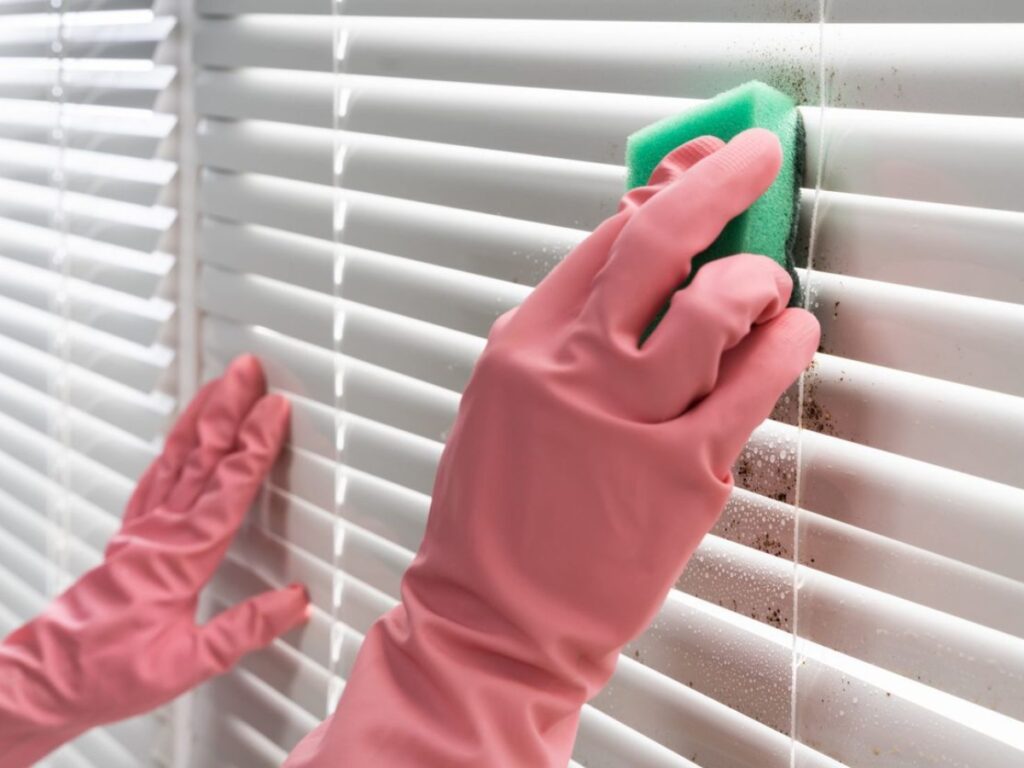 Step 7. Check for damages:
Checking for any damages before moving out of a house is essential to ensure you don't incur any charges for repairs or replacements. Check the walls and ceilings for any cracks, dents, or holes flooring for scratches. Especially check any electrical equipment and appliances (light, water pipe, heater, air-conditioner, fridge, etc) for malfunction or damage while using.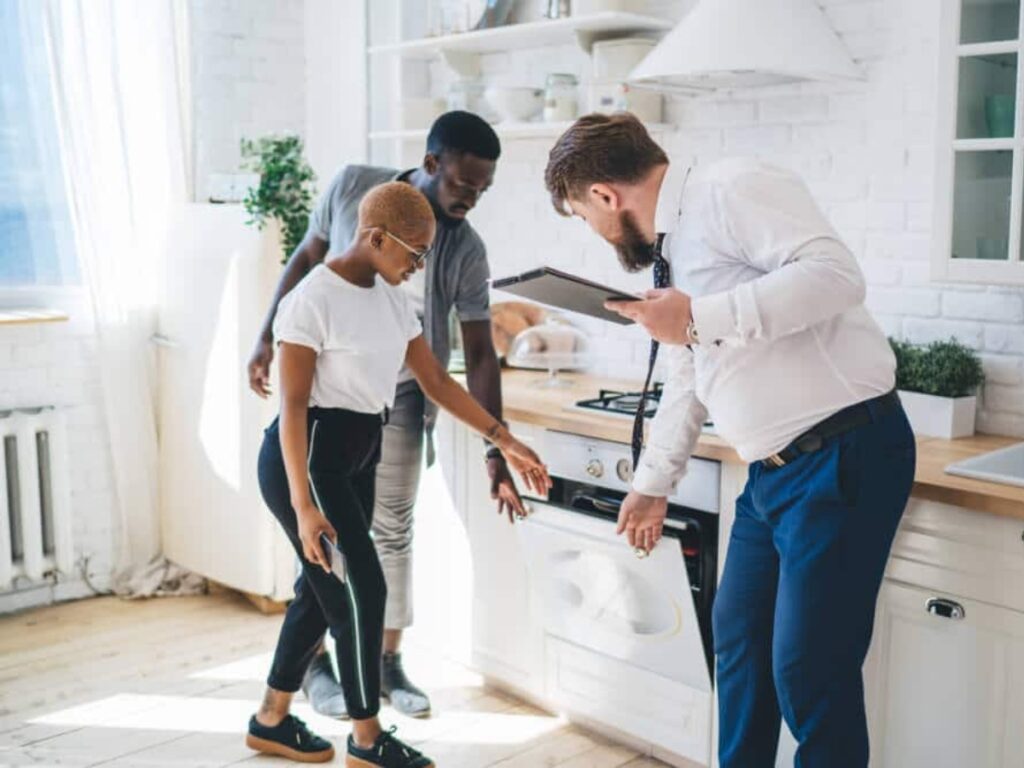 Once you've completed your inspection, list any damages or issues you found, and notify your landlord or property manager immediately. It's essential to address any damages or repairs as soon as possible to avoid any further damages or charges.
In short
Following these steps ensures that your house is clean and ready for the next tenants or owners. This will not only help you avoid any disputes but also leave a positive impression and maintain a good relationship with your landlord or property manager.
Looking for a moving-out cleaning service provider?
It is essential to find a dependable and trustworthy moving-out cleaning business. Sparkling and Beyond may be the one that you are looking for, we help you to make reservations for nearby house and office cleaning businesses.
If you want to know more tips for cleaning, welcome to Sparkling and Beyond! We not only provide cleaning services but also helpful tips for making your space dust-free!
In case you want to book our services, feel free to contact us today! Our experienced cleaning experts are waiting for you! If you want to check our availability and pricing, please check here.
As an interior designer, I have done many researches regarding building a healthy living space. This job is my passion and I am happy that I have helped a lot of customers to improve their living space. Out of work, I like art, I often spend time on painting to relax myself. Completing a colorful painting helps me refresh my energy.