When it comes to house cleaning, there are two types of cleaning. There are regular cleaning services where you may either clean your house yourself or have a domestic cleaning company do it. This is part of our routine maintenance cleaning, which also includes basic cleaning of the bathrooms, kitchens, and other rooms in addition to the flooring.
Every now and then, you will require a deep house cleaning services, either by a company or by yourself to get that deeper dirt and grime, to keep your home looking great. The cleaning schedule is more detailed, it takes considerably longer, and more work is involved.
We thought the best way to explain what you should do, or expect from a deep house cleaning service is summarised in a useful list below.
What is a Deep Cleaning
In comparison to a routine clean, a deep clean is more thorough and in-depth. It means removing all types of filth and grime that have built up over a long time on the house's deepest surfaces or corners. It includes more areas than a simple cleaning, such as thoroughly cleaning stovetops and tubs, cleaning inside microwaves and ovens, vigorously brushing floors and bathtubs, etc.
Heavy-duty cleaning typically costs more than regular cleaning since it requires more time to complete the task. More cleaning agents that are potent enough to remove stubborn stains and deep-down filth are used by this kind of cleaning service. Deep cleaning guarantees a tidy home.
Deep cleaning your home offers a variety of benefits than just being thorough.
These include:
Eliminate filth from nooks and crannies you never knew existed;
Reduce the possibility and presence of mildew by completely getting rid of it; this minimizes accumulation that results in fading or flaking paint in bathrooms and kitchens. Deep cleanings also remove any furniture polish that could trigger an allergic reaction (such as asthma)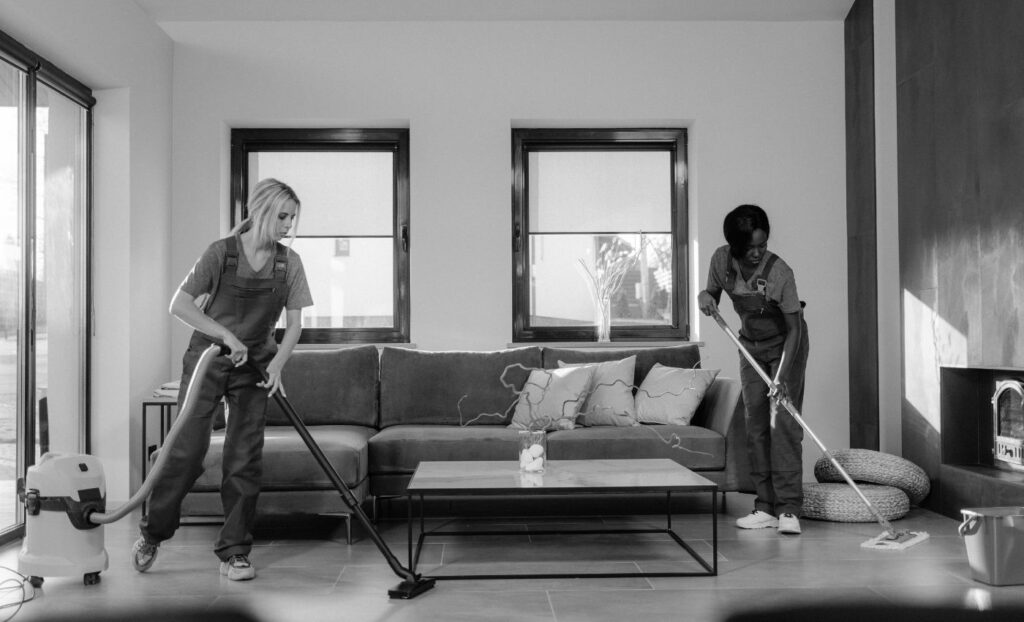 What is a Standard Cleaning?
Keeping up with routine cleaning tasks is the goal of regular/standard cleaning. Typically, this happens every week. The service includes chores like garbage removal, floor cleaning, wiping off bathroom and kitchen surfaces, and general dusting.
Deep Cleaning House Checklist
Here, we'll create a checklist of every cleaning items that can be used to give each area in your house a thorough cleaning. To make sure they contain all you want done, you should double-check with your cleaning service.
For each cleaning task you request, certain cleaning agencies may charge a separate fee. Before you decide to choose your cleaning business, make sure you have a thorough discussion with them. Verify that they will clean anything you desire for the price you want.
Not understanding exactly what a cleaning company will do in your home is a great way to be disappointed and then have a problem.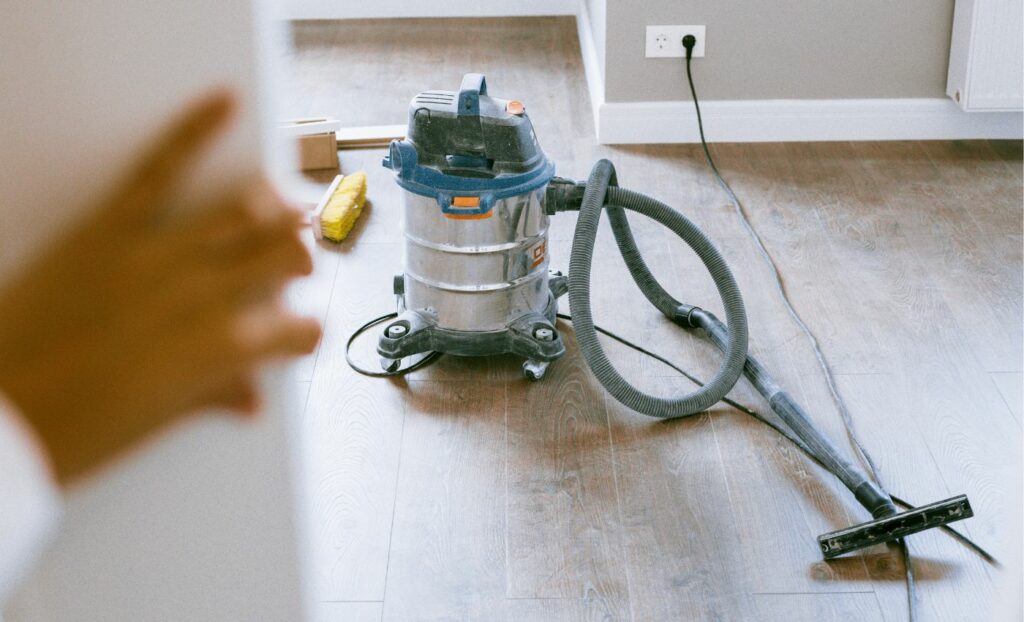 Deep House Kitchen Checklist
The kitchen room is where you create healthy and appetizing meals for your family. This is where you cooked, planned, prepared, and stored your food. As a result, you must make sure that your kitchen is consistently tidy and clean. Every day cleaning and sterilization of cooking equipment and utensils is also recommended. This will prevent possible pests that could bring in some food-related diseases.Ovens, microwaves, refrigerators, freezers, and coffee makers are among the kitchen appliances that need to be properly and frequently serviced. Cleaning up the daily clutter in your kitchen, one of the busiest rooms in the house, will make it feel consistently clean.
clean and disinfect the trash can.
clean the microwave. (inside and outside)
deep clean the dishwasher.
clean inside the refrigerator and organize.
clean and organize the freezer.
vacuum refrigerator coils.
clean the oven (inside Oven)
clean the hood vent and change the filter if needed.
clean stove top burners.
clean and disinfect the garbage disposal.
clean and organize plastic ware and storage containers.
reorganize kitchen cabinets and drawers. (inside and outside cabinets)
clean and organize kitchen drawers.
clean and disinfect coffee maker.
clean and disinfect small appliances.
clean under the sink and eliminate the unnecessary.
deep clean cabinet doors.
deep clean floors.
disinfect door knobs, light fixtures and pulls.
remove anything from the kitchen that doesn't belong.
If you don't know how to start, you can check some tips here!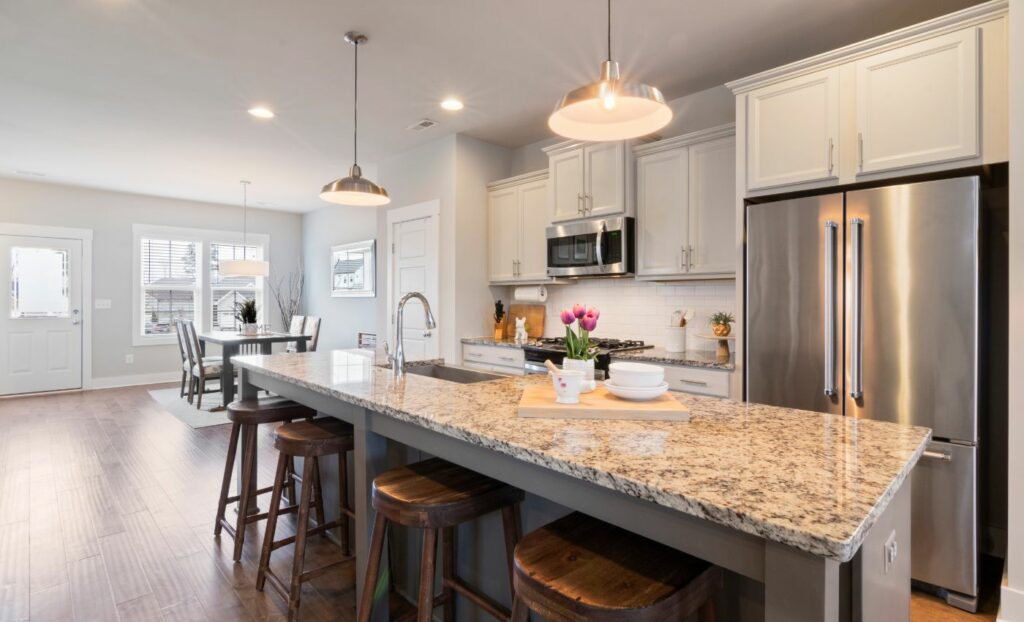 Deep House Cleaning For Bathrooms
More than any other room in the house, the bathroom requires ongoing cleaning attention. To stop the potential spread of germs, bacteria, viruses, or other pathogens that could lead to illnesses and disorders, this area should be cleaned every day. Using disinfectants on a daily basis can help keep your bathroom clean and safe.
Always remember clean drains from Top to Bottom.
Clean air vents from the ceiling.
Clean and disinfect light switches and fixtures.
Clean and disinfect toothbrush holders.
Clean and refill soap dish and/or pump.
Clean light fixtures.
Clean mirror.
Clean shower curtain and liner.
Clean shower door frame.
Clean shower glass.
Clean plastic strip at the bottom of a glass shower door.
Disinfect countertops.
Dust and clean windows, inside and outside.
Mop and scrub floors.
Scrub and disinfect toilet, including around base, under seat and around hinges.
Scrub the bathtub and/or shower.
Scrub walls. (some stains)
Wash the toilet.
Wash trash can (inside and out)
Wipe down cabinets, knobs, towel racks and toilet paper holder.
Clean bathroom exhaust fan.
Clean shower head.
Clean, organize and de-clutter cabinets and drawers.
Clean, organize and de-clutter bathroom closet.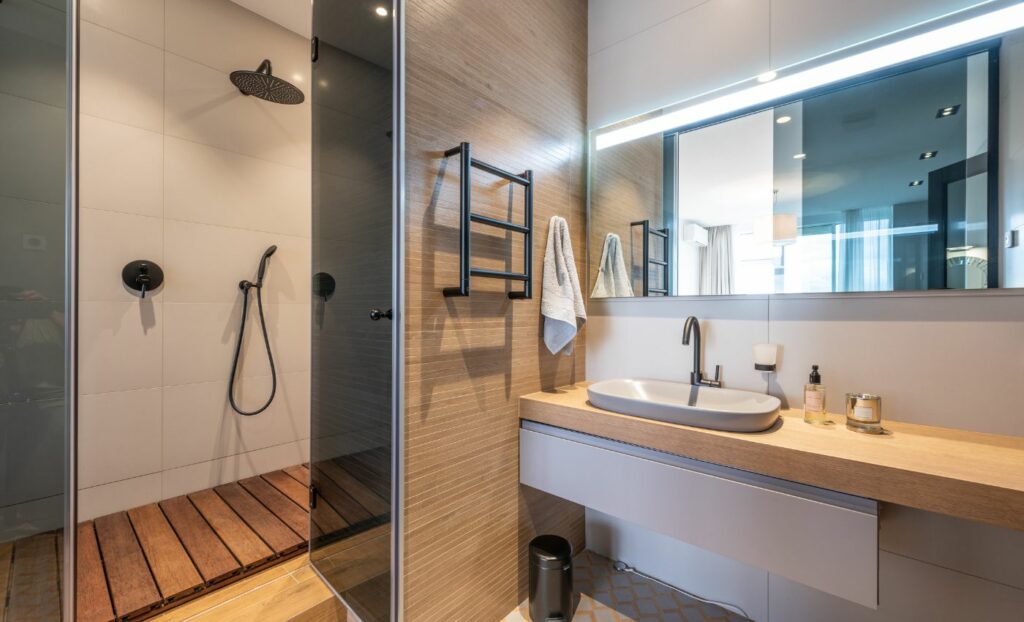 Deep Cleaning Checklist For Living Room/Family Areas:
The living room is easily one of the most frequented rooms in a home, and one that can easily become messy. It's a space for entertaining friends and family, and a place to relax after a long day. Therefore, it deserves some extra attention when you're tidying up.
If your living room is in a need of deep cleaning, you should:
take anything that doesn't belong in the living room.
dust crown molding, wall corners, and floor molding
vacuum all carpet areas.
vacuum under furniture and in between cushions
dust ceiling fans.
clean lights and wash light globes.
dust lamps.
dust edges of wall hangings, mirrors, and pictures.
clean windows and window sills.
dust electronics.
disinfect remote controls and electronics devices.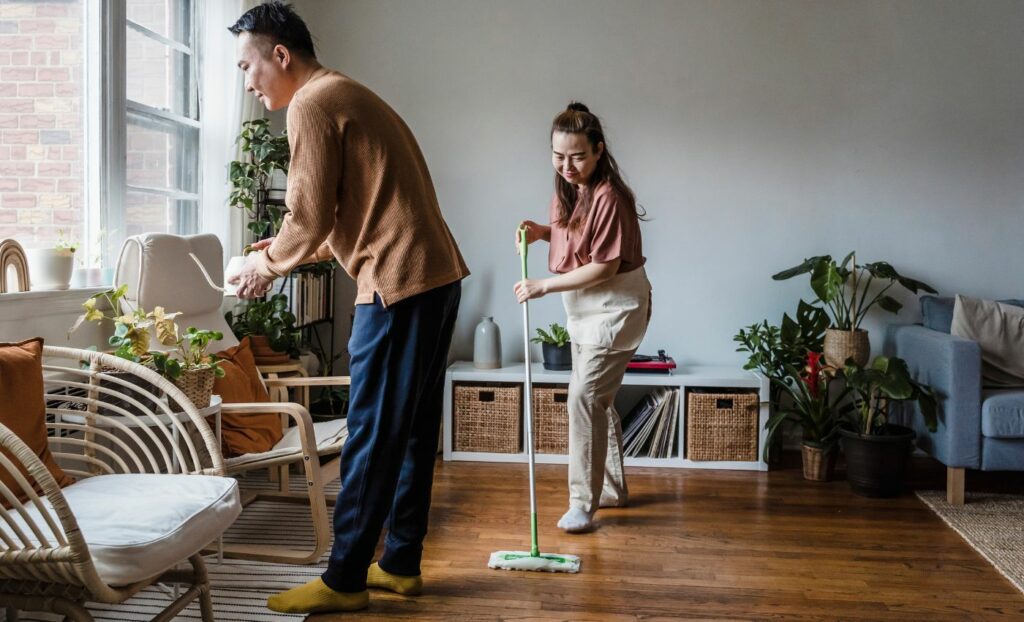 Deep Clean Checklist For Bedrooms:
A disorganized bedroom can add to daily stress, cause anxiety, and even impair your ability to sleep. On the other side, a tidy, well-organized bedroom aids in promoting rest and relaxation when you finally hit the sheets at night. You may create a more relaxing atmosphere in your bedroom with a few quick housekeeping chores, leaving you peaceful and relaxed for the day. In order to restore some calm to your life when it becomes chaotic, spend simply an hour organizing your bedroom.
take anything that doesn't belong in the bedroom.
dust ceiling, corners, and upper and lower crown moldings.
dust baseboards and window sills.
dust and polish furniture.
dust edges of wall hangings, mirrors, and pictures.
clean glass and mirrors.
dust lamps.
vacuum lamp shades.
picked up, folded laundry and remove everything that doesn't belong.
dust ceiling fan.
clean light fixtures.
organize closet.
clean mattress.
clean under your bed.
wash bed sheets.
wash pillows.
clean windows and window sills.
vacuum carpet, including edges and under furniture.
disinfect door knobs and light switch plates.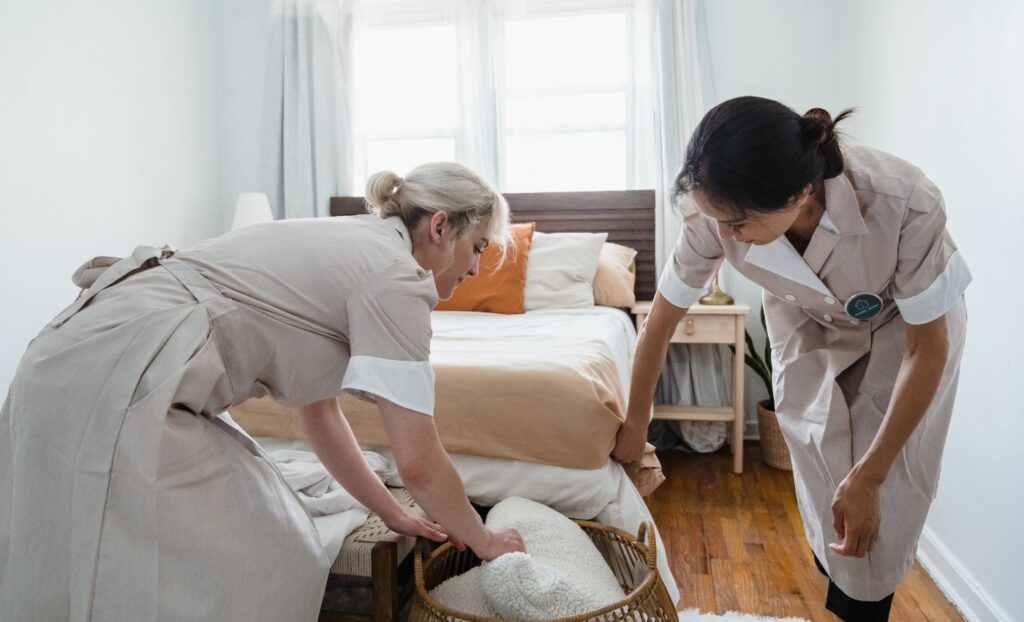 When to Get a Deep Cleaning:
A deep clean is not always necessary. You normally only use it sometimes and for a specific reason. When moving into a new property, for instance, you can plan a deep cleaning. This will allow you to start over in your new house without being concerned about the muck and grime left over from the previous occupants.
When you leave your old house, that is a further occasion when you might require a deep clean. The new owners will then have a fresh start.
Some people deep clean their homes before hiring a cleaning service. This implies that when you begin using the service, your entire home will be clean.
Additional Deep House Cleaning Checklist:
For any areas not covered in the above rooms, these are areas that you should ensure are cleaned during your deep house cleaning process.
carpet cleaning with specialist machine to remove stains
unclog drains and pipes if needed
external window cleaning
porch cleaning from top to bottom
sanitise any other internal bins, and external dustbins.
descaling all chrome and fitting to remove limescale
dishwasher cleaning
pot and pan washing and drying
declutter
clean tile grout to remove mould
It is worth mentioning that each cleaning service company can include its own package or its own checklist for a deep cleaning, we recommend asking the company that you hire if they already have their own checklist or what their service includes.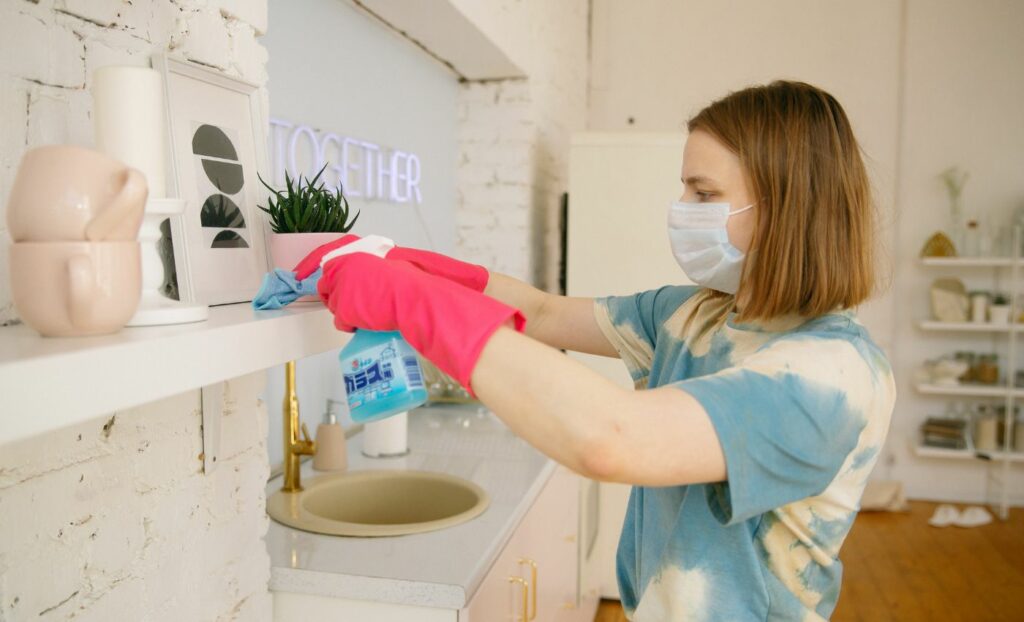 Don't let your house be a mess then be stressed!
When was the last time you cleaned your home? If your response is from several weeks to months ago, you should think about having your home thoroughly cleaned. Deep cleaning takes care of all the areas that are typically more difficult to maintain. It takes care of all the crud that has accumulated over time on surfaces, walls, and floors.
Besides, at least every three months, spend a day deep cleaning your short-term rental. Clean the baseboards, dust the light fixtures, and wash the walls. Don't forget to make any repairs that are needed.
Since my major in university is Marketing, I always grasp the chance to improve my skills to become an all-rounded Marketer in the future. This job, to some extent, has brought me a lot of knowledge about multiple areas, which will be beneficial to my study career. In my free time, I'm into reading and watching classic movies. My favorite genre of all time is romantic comedy.