To maximize efficiency, you should run an office as tidy, clean, and organized as possible. To keep a positive work atmosphere and inspire employees, keeping them healthy and safe is essential. Make sure to plan janitorial cleaning to achieve this.
What is janitorial cleaning?
Janitorial cleaning is a commercial cleaning that manages numerous chores in formal business settings. This covers places like offices in factories, hospitals, and financial organizations. We use janitors, cleaners, or custodians to describe your service providers.
Depending on the facilities that need cleaning, the range of janitorial cleaning will change. For instance, a commercial company will require different techniques than a hospital facility. You should ideally hire a business with a lot of expertise in cleaning environments similar to yours or that can modify its janitorial cleaning strategy to meet your particular requirements.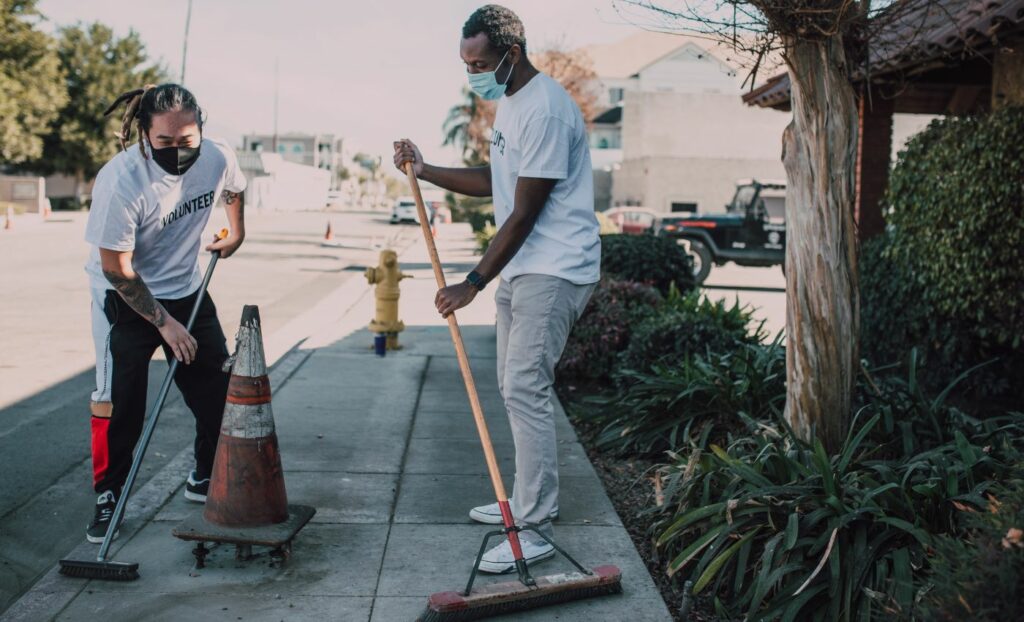 The importance of janitorial cleaning
A tidy office conveys a sense of security and shows visitors and employees that you care about the individuals who work for your company. In addition to keeping visitors and employees free from illness, maintaining good hygiene in your facilities can boost performance, concentration, and efficiency.
On the other hand, poor hygiene fosters a lousy culture and atmosphere among your team and, given the present context, may make office workers nervous. Poor hygiene has a negative impact on corporate results as well as the welfare and contentment of personnel.
According to research, 46% of more than a thousand UK workers claimed they "believed their office cleanliness had been responsible for sickness," and 68% thought "lack of general hygiene" affected their absences. You'll start to notice an increase in business growth and overall employee engagement if you prioritize cleanliness, health, and the wellbeing of your team by maintaining a clean environment.
Related: GREEN CLEANING PRACTICES IN THE WORKPLACE – SUCCESSFUL CASE STUDIES
Daily Janitorial Cleaning Checklist
Janitorial cleaning includes a wide range of small, everyday cleaning tasks:
Vacuuming all tiled floors in the kitchen, bathrooms, offices, and entry areas
Applying disinfectant to all hard surfaces, including bathroom and toilet floors, should be done
Wipe any touched windows, mirrors, or walls with a damp cloth.
Changing bin liners and cleaning and emptying trash cans.
Cleaning and sanitizing all surfaces, including workstations, dining tables, seats, digital touch screens, monitors, skirting boards, handrails, radiators, windowsills, light switches, and any other commonly touched or used areas
Cleaning the refrigerator, microwave, water dispensers, and countertops, among other kitchen appliances
Dishwasher loading, loading, and running
Disinfectant to thoroughly sanitize all restrooms and toilets
Wiping down washroom countertops including hand dryers, hand soap dispensers, etc.
Refilling all soap, sanitizing, and drying dispensers within washrooms and the general facility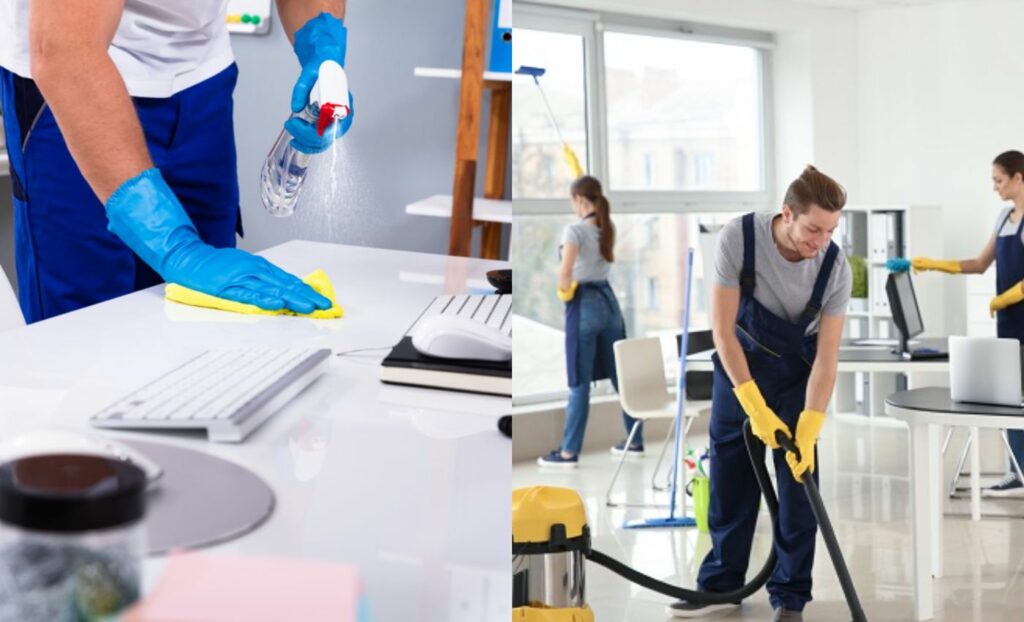 Checklist For Janitorial Cleaning Office Desks And Cubicles
Ensure they are clean and orderly by taking the following actions in the workspace where people sit and work, such as desks, cubicles, and shared work tables.
Keyboards and computer screens should be dusted.
Empty the garbage cans and recycle paper.
Floors near and under desks and tables should be vacuumed.
Office windows should be cleaned.
Phones, lamps, keyboards, fax machines, copiers, staplers, and other items should all be disinfected.
Cleanse surfaces including desks, shelves, and others.
Checklist For Janitorial Cleaning Office Reception And Waiting Areas
Guarantee that it helps you make an excellent first impression if your office has a front area that welcomes visitors. Be sure to perform the following cleaning procedures to achieve that.
Organize and clean the welcome desk.
Dust the desk, the waiting room tables, and any hard surfaces.
Empty the recycling and rubbish containers.
Ensure the water container is full of water, and remember to replenish water glasses for your guests.
Classify good books and magazines for your visitors.
If there is free coffee in the lobby, clean the coffee maker and filter.
The windows, business signs, and other features visitors first notice should be cleaned and dusted.
Infect surfaces people touch, such as phones, light switches, call buttons, and TV screens…
Make sure to clean the carpet in the waiting room or common areas every 3 to 4 months.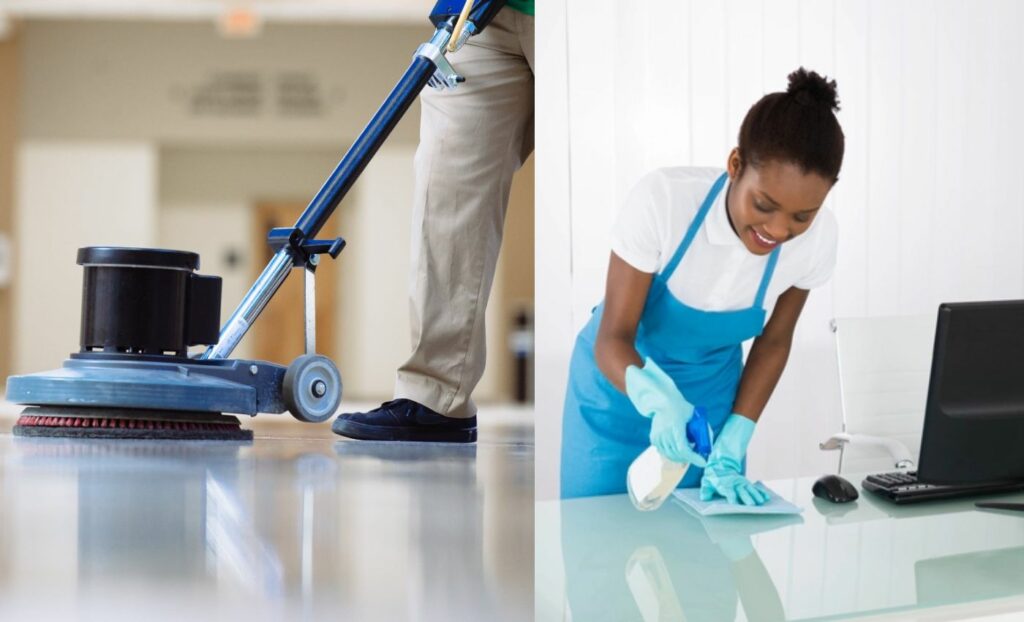 Checklist For Janitorial Cleaning of Office Bathrooms
The restroom at your workplace is no different from any other bathroom in the routine cleaning and disinfection requirement. Here's how to keep it secure, wholesome, and clean.
Clean and sanitize the restrooms.
Wash and sanitize the sinks.
Clear the floor of the debris before disinfectant-mopping it.
Before disinfecting hard surfaces, clean them off, and throw away paper towels and other waste that isn't recyclable.
Replace used paper towels and toilet paper rolls.
Use glass cleaner to clean the mirror.
Verify that each and every hand dryer is operational. Try troubleshooting, or if you cannot resolve the issue, inform a repairman or maintenance expert.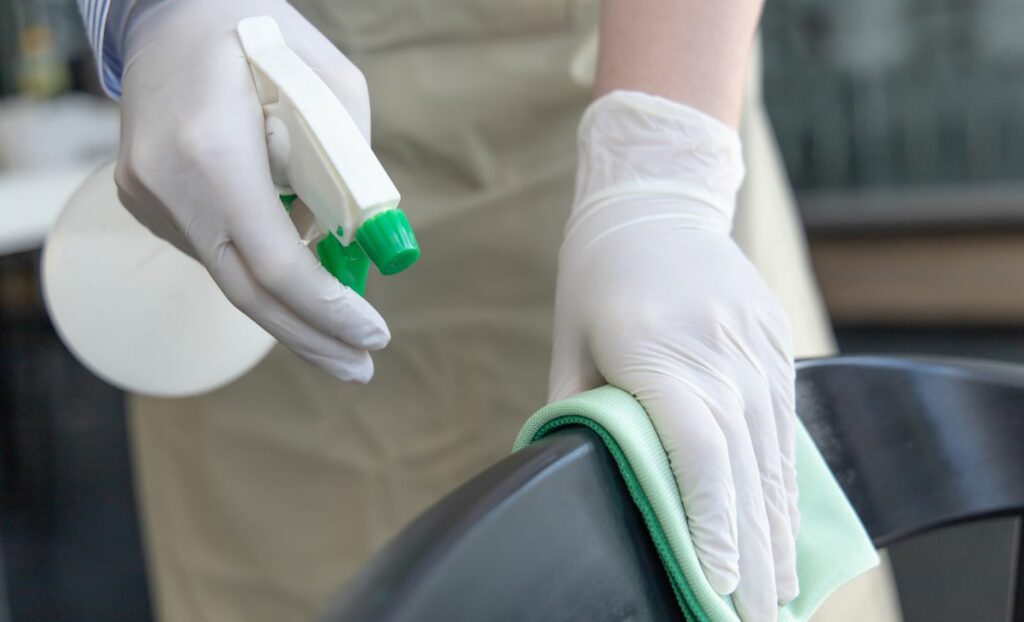 Checklist For Janitorial Cleaning The Area Outside Your Office
If there is one, spend some time cleaning the area outside your office. Your office's exterior part also contributes to the first impression. Make sure to take care of the following to maintain the cleanliness of your office's outside.
Clear the walkway and the area around the front door of any leaves, branches, or other debris.
Ensure the welcome mats are placed correctly and are clean.
Ensure the glass on your doors and windows is spotless, streak-free, and shining.
To prevent odors or pests, empty any exterior garbage cans.
Remove any plants or branches blocking doors, sidewalks, or walkways.
Ensure the parking lot is clear of any obstacles that can hinder people from parking or walking, such as branches or snowdrifts.
The Greatest Office Cleaning Checklist Solution Is to Get the Experts to help.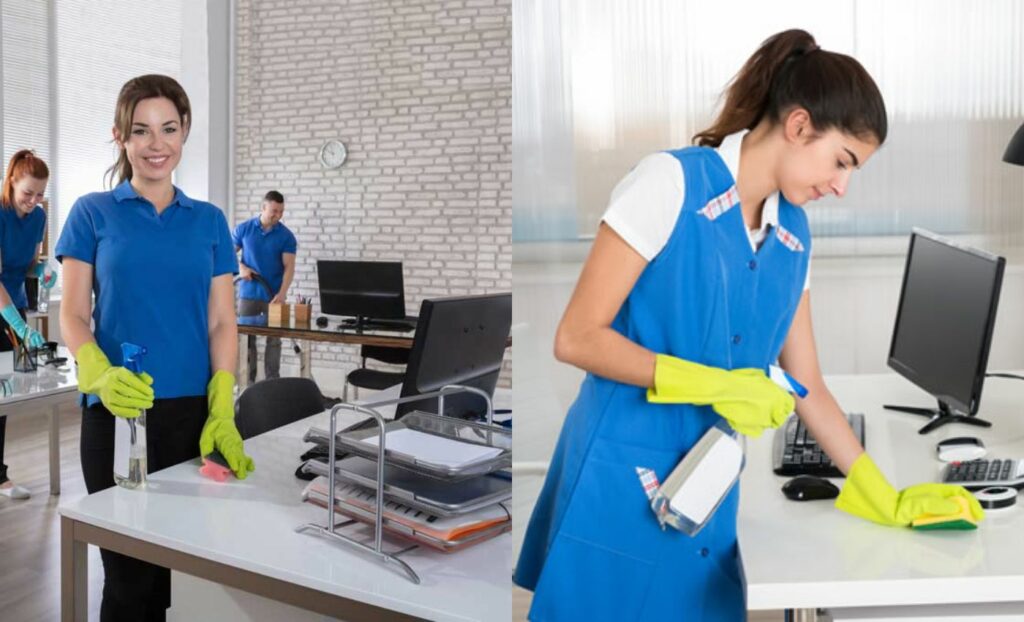 Wrap up
Having everything you need to work at your office is essential. It's also crucial to ensure that everything is in good condition and that the area feels tidy and well-maintained. To make sure you remain on top of everything you need to, use the finest office cleaning checklist mentioned above, or hire a professional janitorial cleaning service.
Schedule your janitorial cleaning service today!
Regardless of your budget, Sparkling and Beyond can help your company by providing office and janitorial cleaning services to ensure the highest hygiene standards. You can rely on us as your dependable cleaning supplier because we are dedicated to providing top-notch cleaning services.
Sparkling and Beyond approaches every task with enthusiasm and experience to ensure every client is happy, whether it be move-out cleanings, new home cleanings, move-in cleaning services, regular cleanings, or something else.